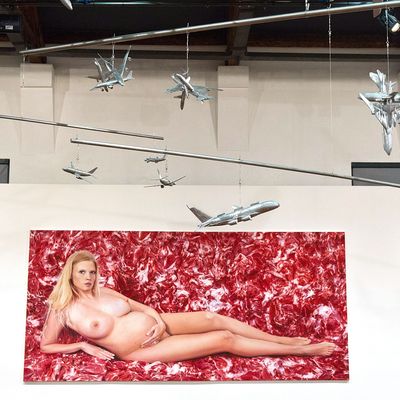 Photo: Marco Secchi/2013 Getty Images
Nude, pregnant celebrities — a club that's experienced a sporadic growth spurt lately — have managed to capture the eyes of male artists around the world. Artist Daniel Edwards claimed that he wanted the media to "leave pregnant Kim alone!" and responded by immortalizing the pregnant Kardashian in a piece called L.A. Fertility, which accentuates the reality star's "lactiferous breasts" and "voluminous belly." Up next: Dutch model Lara Stone, whose naked, full-body portrait with her belly in full bloom was unveiled at the 55th Venice Biennale festival yesterday.
Stone already gave birth to her son earlier in May. And, to further count the differences between the model and the Kardashian, Stone actually posed for her pregnant artwork. British artist Marc Quinn, who once produced a solid gold statue of Kate Moss with legs contorted around her torso, painted the IMG model posing atop piles of red meat, with her arm protectively cradling her belly. Is the meat a symbol of an even greater "womb" in which Lara is gestating? Was this a reason to remind the world about her natural breasts? Also notable: the only pieces that Stone decided not to remove from her body are the sparkly rings on her finger. Devoted wife and mother!