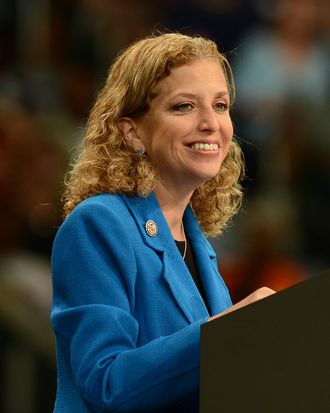 Photo: Larry Marano/WireImage
On Mother's Day, the New York Times' Motherlode blog debuted a new series in which famous and not-famous parents keep a diary of a day in the life, with a focus on how housework gets shared (or not shared). In its first installment, Florida Congresswoman and Democratic National Committee Chair Debbie Wasserman Schultz describes a fairly frenetic weekend at home with her family and her constituents, explaining that she manages her children's school lives (mostly remotely, via iPad) and her husband takes care of the three travel sports. They pay someone to handle the laundry. She wrote:
On Monday, our house cleaner will come and spend the entire day cleaning the house and doing all the laundry, including putting it away. While we certainly recognize that this is a luxury, we decided it was worth budgeting for. Laundry became a stress point for us. When I ran for Congress and gave birth to Shelby, our third child, I knew that there was no way I could come home from D.C. every week and spend the entire weekend sorting laundry, washing laundry, folding laundry and putting away laundry while arguing about how much of it Steve and the kids could have done while I was away. Steve resisted at first, but it was one of the best decisions I ever made, because it gave me some of my most precious commodity: time.
Chalk up another vote for leaning in, not cleaning in.