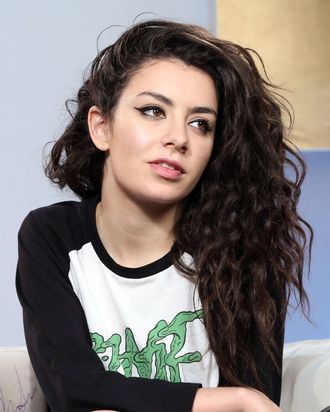 Photo: Rob Kim/Getty Images
Maybe you already are familiar with the British singer-songwriter because you watched her sultry cover of the Backstreet Boy's "I Want It That Way." But if you didn't, then let me introduce you to the talented young crooner and her incredible mound of hair. Watch the YouTube clip of her cover and see how she flips it from one side to the other. There's so much hair, and it's healthy.
Initial analysis of her follicles suggests that she is the owner of naturally squiggly hair. But curly hair is prone to epic bouts of frizziness; hers is well-maintained and glossy. To keep the frizz at bay and her ends conditioned, there's a chance she gives it a daily dose of hair oil, like L'Oreal's Mythic Oil. She also probably rarely washes it (a universal truth for healthier follicles) and spritzes in some leave-in conditioner in the evenings before whipping the strands into braids. This nightly routine will help her curls keep their shape and structure for the next day.
To complete your Charli XCX transformation, also rim your eyes in black. On top, draw an exaggerated cat-eye shape with liquid liner, then lightly smudge a pencil liner (Clinique's has a built-in sponge smudger) along the waterline on the bottom. Midriff-baring T-shirt and schoolgirl-uniform skirt are optional.