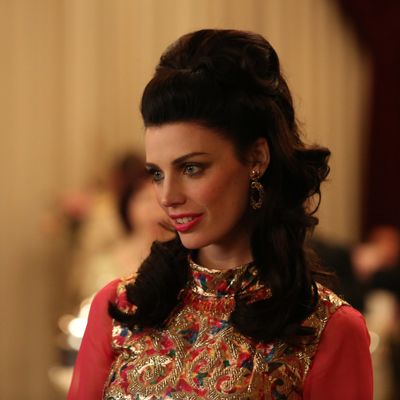 Megan.
Photo: Michael Yarish/AMC
An intriguing announcement from Mad Men costume designer Janie Bryant today: this season, SOMEONE WILL WEAR SHANTS. (To those who aren't familiar with this term, shants = a combination of shoes and pants. We once thought Kristen Stewart was wearing them, but it turned out her shoes were just hard to differentiate from her leggings.) From today's WWD:
As for other items viewers might see in upcoming episodes, Bryant acknowledged that bodysuits and "shants" — all-in-one pants and shoes that were a popular fashion item in the late Sixties — might be a good fit.

"Pucci did 'shants' and even had a matching miniskirt…but I really can't say what I'll be using," she said.
So who will be the lucky shants-wearer be? Megan, probably, but surely Scarlett's got some in her off-duty wardrobe, too.