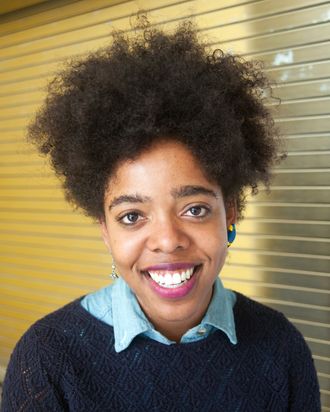 Photo: Erin Ashford Photography
Maddy Maxey is a regular 20-year-old who's too tired to be doing a 9 a.m. phone interview, until she starts talking about pattern-making software. A self-taught fashion designer, Maxey began interning at Tommy Hilfiger at just 16, and later did stints at Peter Som and Nylon magazine. After her sophomore year at Parsons, she left to start her own collection of blazers called Madison Maxey. Last week, she became the first fashion designer to ever received the $100,000 Thiel Fellowship.
The Thiel Foundation was launched in 2011, when billionaire PayPal founder Peter Thiel declared the American college system useless and decided to fund the dreams of twenty fresh-out-of-high-school entrepreneurs each year. Past and present fellows are mostly in the tech start-up realm, and this year Maxey is one of only four women to win the prize. The Cut spoke with the San Diego native about millennials' blurry path to success, her sewing obsession, and how she plans to fix the economy with fashion technology.
Some people think the Thiel Fellowship is a crazy idea, to skip college to start a company at 18. Why did you apply?
I went to Parsons for fashion design, but I took a year off because I wanted to start my own business. I really wanted to see what I could do on my own before I went back to school, to make sure it was what I needed. I got really into the entrepreneurial community and ended up applying for this. Part of the fellowship requires taking two years off of college, but I can go back afterwards. I was always encouraged to put my passions first. There's no cut-and-dry path to follow anymore.
How did you learn fashion design so early?
I started sewing when I was 8 and started taking classes at community college in middle school. I spent my weekends sewing. My parents let me turn our living room into a sewing studio. I have four sewing machines, and a metal Singer machine that I won from the CFDA and Teen Vogue that can sew through heavy fabrics. And I have an embroidery machine. It was kind of an obsession. I also sewed stuff for around the house, like curtains and futon covers, to make it benefit my parents a little bit.
What was the application process for the fellowship like?
It's very extensive. They ask a ton of really specific questions. One of the questions was: "What's something that you think no one else thinks about the world?" I wrote that you create your sense of reality and view the world the way you'd like to see it. If you think college is your only option, then college will be your only option. During this whole process my father was very ill, and this idea was kind of helping me get through that and follow my dream. For the finals, you go to San Francisco and pitch your concept to a large crowd. It really tests your networking and presentation skills.
You started designing blazers, but the concept you pitched is more about fashion technology. What are your plans?
Starting my own company, I realized how convoluted the process can be. It's really hard to produce in small quantites. By optimizing clothing patterns, we can cut down on labor and make production more efficient. It'll be more sustainable, and it'll be less labor-intensive. With everything that's been happening recently [in Bangladesh], it's obviously time for change in the way we manufacture. My software, Meld, optimizes patterns. A lot of this kind of software exists but not for the garment industry. The fashion industry still uses CAD to design, but that's really made for architecture.
What does it mean to optimize a pattern?
If you're wearing a T-shirt that's made out of five or six pieces [of fabric], my software could use creative ways of folding the fabric to reduce the amount of fabric you need and the amount of work that goes into putting it together.
Why did you decide to pursue that?
My collection was the biggest inspiration. I wanted to help designers who wanted to make small quantities, and also help companies that wanted to produce in America. We're not going to be able to increase production here unless it's economically beneficial for companies to do that.
Did you know how to program software before you pitched the idea?
I got help from a friend with the software. When I started my business, I couldn't really talk to my friends about it, so I joined a lot of young entrepreneur groups. I now work at General Assembly which is very tech-based. I do a little bit of the programming. I think it's really important to know what's going on, but now that I have the scholarship, I'm talking with a few software companies to get a whole team working with me.
Where do you want to take your concept?
Hopefully it'll become a career. I don't expect the software will be up and running in two years, but it might come in smaller steps. Maybe we'd start with an app to help designers with this kind of stuff, and then develop it into a bigger program. It's going to take a while for sure.