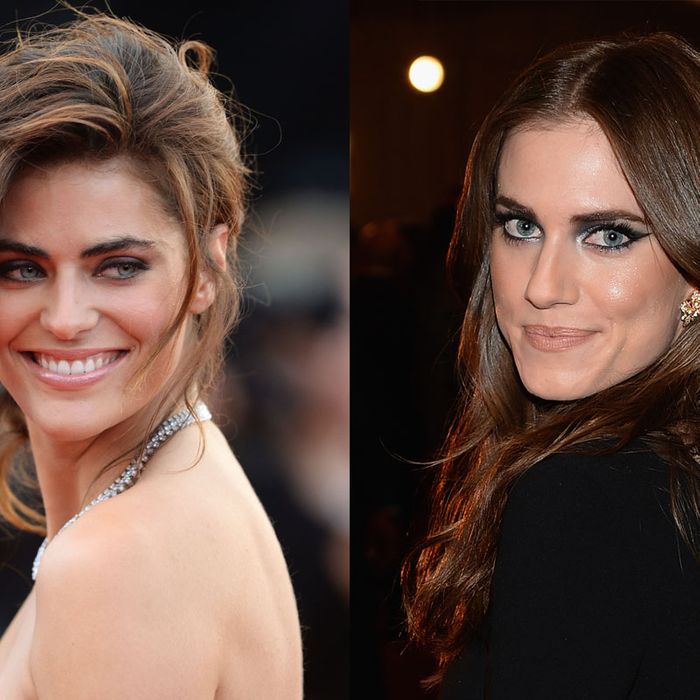 Alyson Le Borges (left) is a French model-actress who looks a lot like Girls star Allison Williams (right). Trippy, right? The two actually look so much alike that photo agency Getty even mis-credited the brunette and tagged Williams's name to Borges's photo, which was taken at the Cannes premiere of Blood Ties. They both have chestnut-colored hair, heart-shaped faces, dimples, and blue eyes — except Le Borges is the bombshell to Williams's controlled beauty.

That's what should've been the dead giveaway: all that hair and makeup Borges brought to the red carpet. Wearing a dramatic, red Armani Prive dress (Samurai pole included), her hair was va-va-voom'd up to Penélope Cruz levels. Her lids were awash in smokey, sultry brown shadows and her lips got painted a Brigitte Bardot nude. While Williams will occasionally get glam-teamed-up for various red-carpet events, she might go for a bold lip or smoked-out eyes — never both, and never with her hair all done up as well. For Williams, despite her self-professed beauty obsession, it's always about looking perfected and appropriate: school dance pretty.
But if Williams is ever curious about what she'd look like if she decided to reach into that beauty stockpile of hers, now she knows. Just like Le Borges, an ultraglammed-up hybrid of Cindy Crawford and Denise Richards.