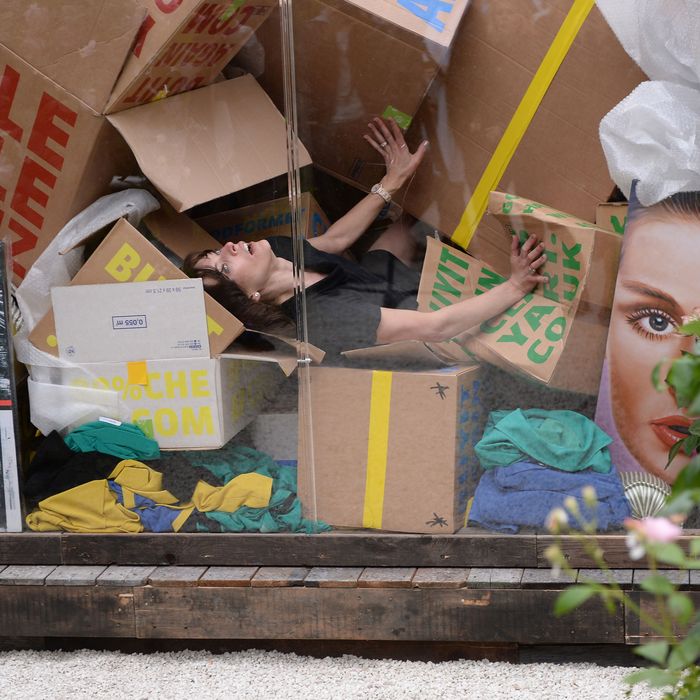 Photo: Andre' Lucat - SGP
Yesterday, the actress-model-singer turned performance artist spent six hours housed in a transparent structure plotted on the Garden of the Malipiero Barnabò Palace at the same time as the opening of the 55th Venice Biennale. While the concept might sound similar to a striking blonde-haired actress sleeping in a glass box in a museum, Milla Jovovich wasn't just playing a sleeping beauty. Rather, Jovovich was the star in artist Tara Subkoff's "Future/Perfect" art installation, in which she assumed the character of a consumer who could only reach the outside world through technology.
In an effort to fill her empty, see-through abode, Jovovich ordered a range of objects, including famous works of art from the Art Production Fund and garments and accessories from Marella — that would then drop in from her roof until Milla quite literally gets buried alive (or falls under deep sleep, to be more delicate) beneath the products of her rabid consumerism. Artists like Jeff Koons, Ed Ruscha, Yoko Ono, Barbara Kruger, Julian Schnabel, and more contributed their work to the installation. Is this a comment on the Internet, consumerism, Milla Jovovich, or all of the above? Click through the slides for exclusive images from the performance.