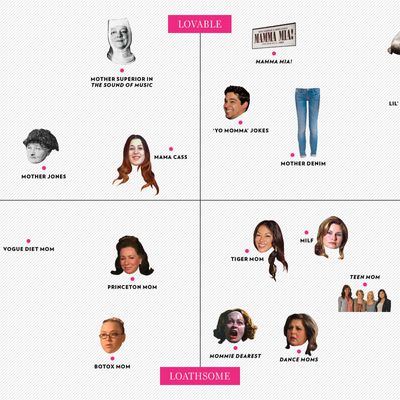 Moms have taken over the Internet. There are "mommy blogs" and "mommy wars." Moms who get their pre-baby bodies back. Moms who give dating advice. Moms who give dieting advice. Tanning Mom, Tiger Mom, Princeton Mom, Teen Mom, Dance Moms: the double-edged sword of fame and infamy strikes all who receive a "Mom" moniker. [Click to enlarge image.]
Motherhood is polarizing. The stakes are high: Mothers hold the most important (unpaid) jobs in America, politicians and TV hosts often remind us. But there is no consensus on the best way to mother, so we judge and argue and brag and point fingers, turning bad mothers into loathsome viral sensations and good mothers into lovable icons.
Our sexual culture has difficulty reconciling motherhood, too. "Teen" is currently the most popular role for women in porn. The second-most popular role? "MILF." Logically, motherhood should be sexy; to become a biological mother, one must have sex. But beloved maternal figures are often sexless. Mother Goose has no children; Mother Teresa took a vow of chastity. Meanwhile, Tanning Mom's and Teen Mom's ribald and taboo sex lives feed their infamy. Now that Tanning Mom's skin has faded back to an identifiably human hue, her chief claim to fame is grossing everyone out by going nude at the beach and offering to do porn. When a woman has raised children, and her body looks like it, we stare in horror. When a woman has raised children, and her body appears to remain nubile, we stare and marvel.
Mapped on two axes — Sexless to Sexy and Lovable to Loathsome — the Mom Matrix charts pop culture figures with Mom, Mother, and Mama in their names. It reveals some patterns. Those with the word Mother in their names tend to be lovable; Mom is more likely to be loathsome, perhaps due to the more casual tone of media outlets where the loathsome achieve infamy. (Google Book Ngrams reveal that the word mother has occurred with relatively consistent frequency over the twentieth century, but mom, mommy, and mama became written staples more recently.) Viral "moms" tend to be sexless and loathsome, with the chief exception of Tiger Mom Amy Chua, who is pretty hot.
If you are unfamiliar with any of the above moms, here's a reading guide, starting from the figures in the upper left quadrant and moving counterclockwise:
• Mother Teresa is a Catholic saint. She served the poor in India and is widely beloved. For a minority opinion, check out Christopher Hitchens's Mommie Dearest: The pope beatifies Mother Teresa, a fanatic, a fundamentalist, and a fraud.
• Mother Goose is the imagined author of many nursery rhymes. She may have been a woman who lived in Boston in the seventeenth century. She might be a fictional reimagining of Charlemagne's mother Queen Goosefoot. She might have been a communal nom de plume. Read a collection of her poems here.
• Mother Jones was a labor organizer. She co-founded the Industrial Workers of the World — still a major international union — and was once considered "the most dangerous woman in America." Here's an article Mother Jones published about Mother Jones in 2001.
• Mama Cass was "the largest, most visible member" of folk-rock band the Mamas and the Papas. Here is her 1974 obituary.
• The Sound of Music's Mother Superior is the nun who sings to Maria, "Climb every mountain." In the classic movie, Broadway icon Peggy Wood played Mother Superior. Here is Wood's 1978 obituary.
• Tanning Mom Patricia Krentcil was arrested for taking her 5-year-old to a tanning salon, allegedly causing a "pretty severe sunburn." (Charges were dismissed.) Because she looked like this, she became famous. Here is TMZ's archive on stories about Tanning Mom. She recently released a pop song.
• Vogue Diet Mom Dara-Lynn Weiss wrote a first-person essay about putting her 7-year-old daughter on a diet for Vogue. Most people hated it. Nevertheless, Weiss wrote a (much more sensitive) book called The Heavy: A Mother, A Daugher, A Diet. Here is a Q&A she did with the Cut's Kat Stoeffel.
• Princeton Mom Susan A. Patton wrote a letter to The Daily Princetonian urging female students to "find a husband." She is a noxious elitist. She is writing a book. Here is a Q&A she did with the Cut.
• Botox Mom was a hoax. In 2011 British tabloid The Sun profiled "Kerry Campbell," a pageant mom who administered Botox and gave "virgin waxes" to her 8-year-old. But Campbell was actually a woman named Sheeny Upton. She made the claim and posed for pictures to earn $200. Good Morning America asked for a $10,000 refund after they interviewed her.
• Tiger Mom Amy Chua wrote bestselling memoir Battle Hymn of the Tiger Mother. She wrote a lightning-rod column for The Wall Street Journal called "Why Chinese Mothers Are Superior." Time later ran a cover story about her. Here's a new study suggesting that tiger parenting doesn't work.
• Mommie Dearest is Christina Crawford's memoir about her abusive mother Joan Crawford. A movie adaptation starring Faye Dunaway became a cult classic. Watch the most famous scene, where Dunaway beats her daughter for using wire hangers, here.
• Teen Mom is an MTV reality show that followed the stars of MTV reality show 16 and Pregnant after they gave birth. The show may have gotten "too real" for MTV. Teen mom Farrah Abraham recently released a "sex tape." Here's a 2010 article about "The Twisted Ethics of Teen Mom."
• MILF is an acronym for "mom I'd like to fuck." A character in the 1999 teen movie American Pie popularized the term. I support banning all terms that end in -ILF.
• Dance Moms is a Lifetime TV show featuring stage mothers, their dancing daughters, and a verbally abusive dance teacher who once co-hosted an episode of The View. An episode where the girls portray "topless showgirls" got pulled from the Internet, once.
• Trainspotting's Mother Superior is the characters' drug dealer. Here's an interview where director Danny Boyle discusses how his film adaptation of the British novel about drug addiction, con men, and sex "swept away" the Thatcher era.
• Mama Rose Thompson Hovick was the infamous stage mother of burlesque star Gypsy Rose Lee. She is immortalized in the musical Gypsy. In 1943, Gypsy Rose Lee wrote three memoir essays about her childhood for The New Yorker. They are available behind a pay wall here, here, and here.
• Mother Denim is a brand of jeans.
• 'Yo Momma' Jokes are a modern variety on maternal insults. They are funny. (Sometimes.) Wilmer Valderrama had a show on MTV about them; watch it here. William Shakespeare wrote 'yo momma' jokes in Titus Andronicus and Timon of Athens; read them here.
• Mamma Mia! is a musical constructed from songs by the Swedish pop band Abba. Watch a video review of Stockholm's new Abba Museum, "overwhelmed by satin and sequins," here.
• Lil' Mama is a rapper. Her most famous song is called "Lip Gloss"; watch the music video here.
• Mother Nature is the personification of Earth's natural world. She is a pinup poster model. She is a reality TV star. She has a fan zine. She is the mother-iest mother of all.