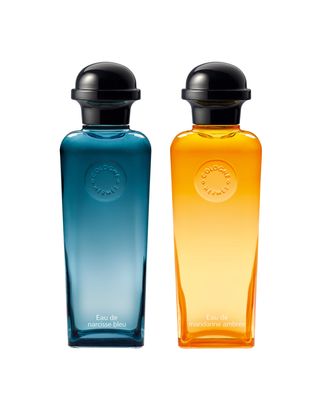 Photo: Romeo Balancourt Paris Photography/Courtesy of Herme?s Parfums
Cologne, by definition, is meant to be a light, citrus-based fragrance for both men and women. The concept originated in Cologne, Germany, in 1709 by the Italian perfume maker, Giovanni Maria Farina, who delivered his fancy scents to all the royal families. Fast forward a few centuries to a time where "light citrus" translated into a nasal assault from any high school boy drenched in Davidoff Cool Water. But Hermès, the epitome of all that is French and chic, is helping cologne reclaim its subtlety with the release of two new fragrances.
Already available in Europe, Eau de Narcisse Bleu and Eau de Mandarine Ambrée won't be out stateside until June, so set your iCal reminder now. The former is housed in a weighty, glass aqua bottle and smells of orange blossom and narcissus. The latter lives in a bright, Hermès orange bottle and — as the name implies —  is a blend of mandarin, passion fruit, and amber. Both were created by in-house perfumer Jean-Claude Ellena and are light enough to be spritzed all over the body (even then, they still won't overwhelm the senses). Perhaps their volume (6.7 oz.), more than twice the size of most perfumes, lends to the idea these colognes are basically just fabulous body sprays.
Hermès Eau de Narcisse Bleu and Eau de Mandarine Ambrée, $165 each