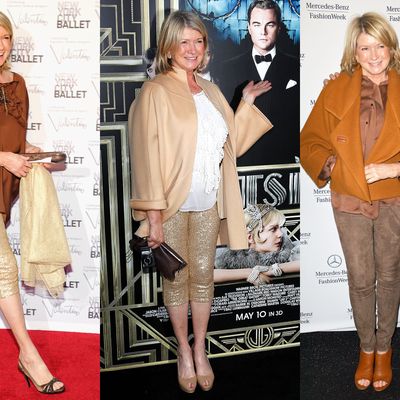 Martha's leggings.
Photo: Jemal Countess/2013 Getty Images
A month ago, Martha Stewart made waves by tweeting about the superior qualities of Vince's leather pants. The Internet got all excited about the prospect of her 71-year-old self running around in skintight cowhide, but the truth is, she's been wearing them for years. See, Martha is what we call a "bottom" lady. In other words, her signature silhouette involves covering up in loose, roomy tops and dresses while showing off her legs with slim-cut pants or short hemlines. Thus, the legging is her friend, and she knows it.
Martha may be best known for her expertise on transplanting roses and presenting cheese straws, but she can also teach the world some basic tenets 0f pants-wearing. Below, a Martha Stewart leggings primer.
1. When dressing up, add sparkle.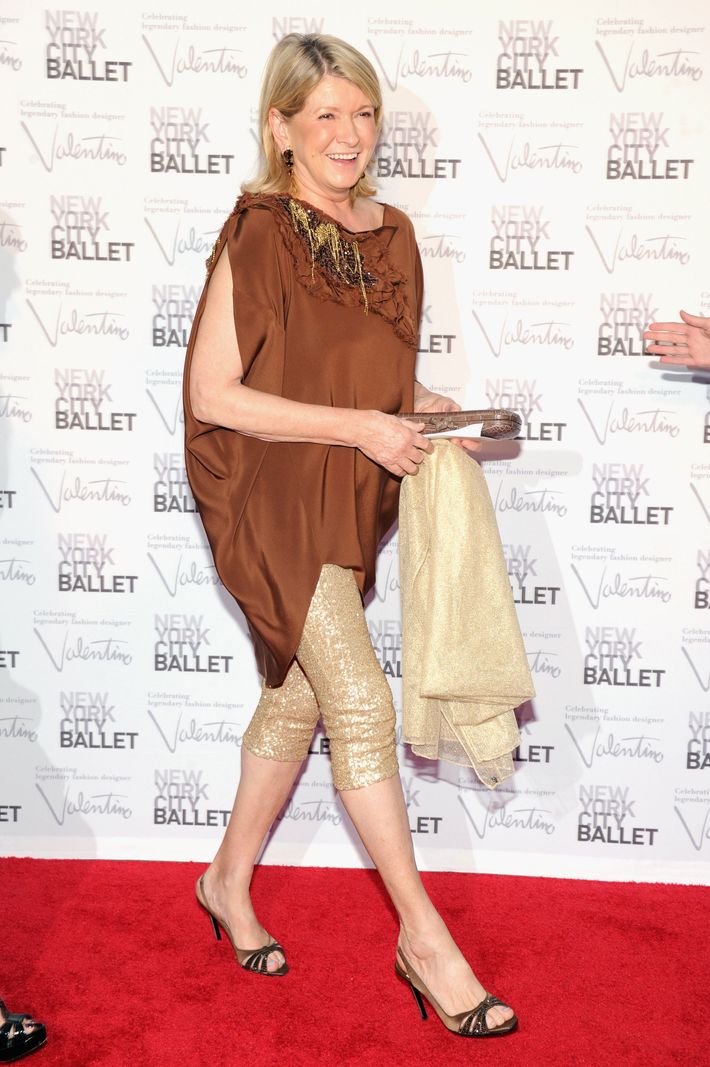 Martha has worn these gold sequined leggings to several red carpet events — last night's Great Gatsby premiere, as well as the New York Ballet Fall Gala in September. As any women's magazine will tell you, you should draw attention to the favorite parts of your body with brighter colors and/or louder patterns, and Martha is doing just that here. The clamdigger length runs the risk of looking too aerobics-friendly, but in this case they work because full-length gold sparkles are just a bit much, even on Martha. 
2. Cover up your butt.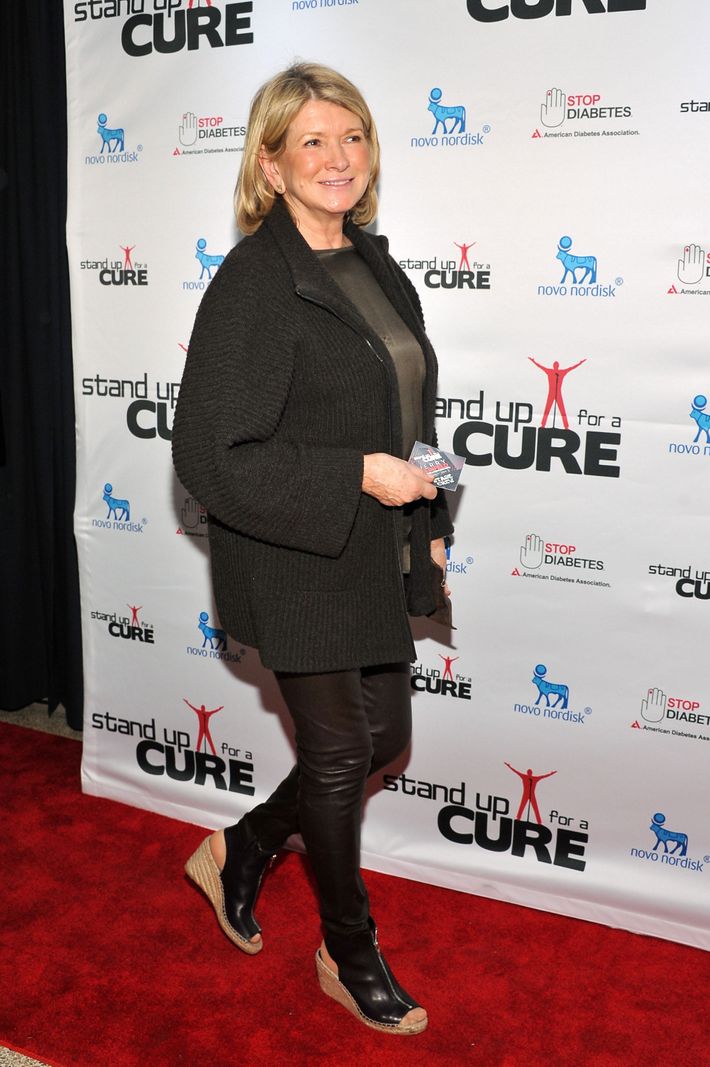 Martha wears tight pants, but she always shields the business part of her lower half from the world with loose, long tops. This is the difference between leggings that are acceptable for red carpets and leggings that are acceptable for Zumba class. It's also the difference between an 8-year-old leggings-wearer and a 71-year-old leggings wearer.
3. Experiment with textures.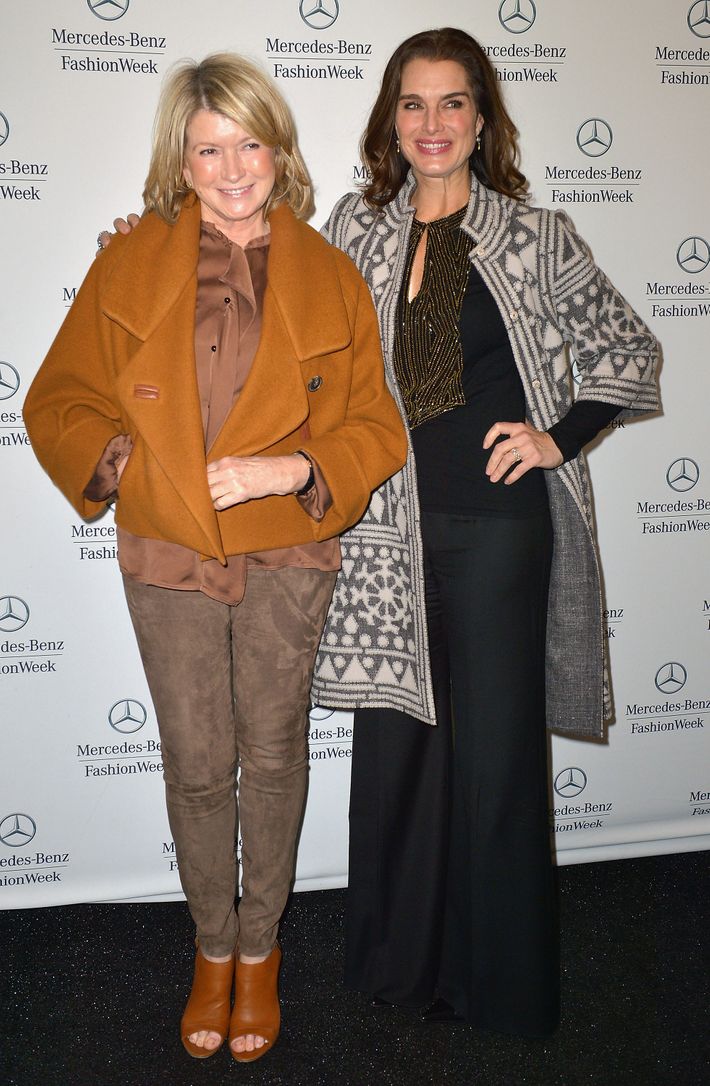 Behold, suede! And Brooke Shields!
4. Enjoy your freedom of movement.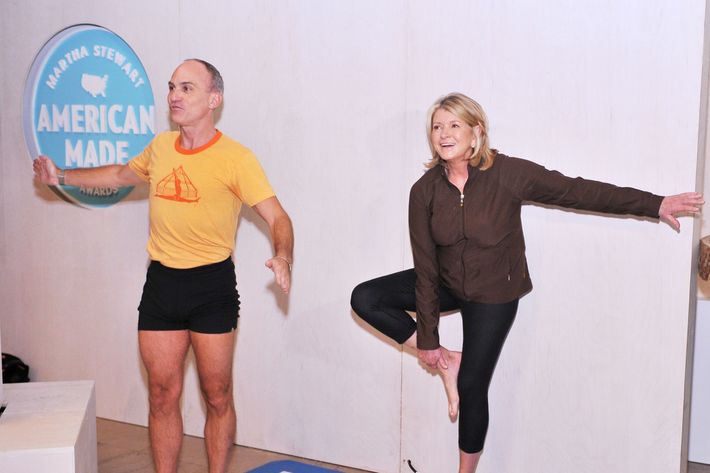 At the end of the day, the best thing about wearing leggings is that they are comfortable. Take advantage of it! Plus, exercise can be helpful for maintaining a leggings-friendly figure.