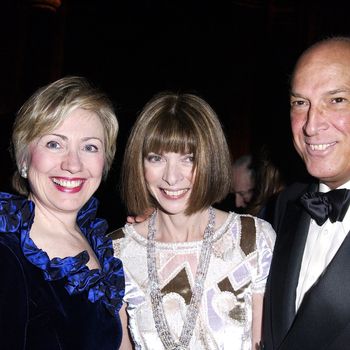 Photo: Jeff Vespa Archive/WireImage
On Monday, the CFDA's Founders Award will be presented to beloved American designer Oscar de la Renta by none other than Hillary Clinton herself. But de la Renta isn't all that impressed; he tells WWD's Bridget Foley that he'd rather be on the docket for Womenswear Designer of the Year, the evening's most coveted prize. De la Renta's candor is one of his greatest qualities. In an industry dominated by super-branded designers, hyper-vigilant publicists, and squeaky-clean puff pieces in Vogue, he's always willing to voice his dissatisfaction, even when it's unpopular. This may be because he's powerful and respected enough that he doesn't have to fear repercussions, but still, it's refreshing.
In the same interview, he even veers onto the subject of Anna Wintour. It's unclear exactly what he's trying to say about her — perhaps he's just spinning his wheels — but interesting nonetheless:
It is interesting to see, for example, year after year after year, going to the same event like [the Costume Institute gala], why Anna Wintour wears only Chanel, she who is a great promoter of young designers. It's a personal choice. Life today, fashion, is [about] personal choices. A lot of people thought that [the Met] should have been grunge, but she wasn't grunge.
Is he saying Wintour's clothing choices are hypocritical? It's hard to tell. Or maybe he's making the point that one's wardrobe is one's own business, not the public's. Which would be a nice idea, if the Internet hadn't already dashed its chances.