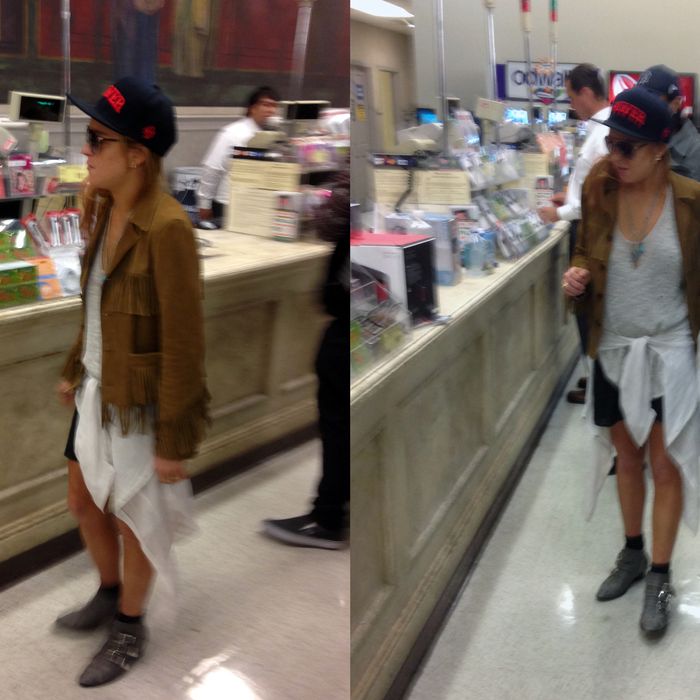 Photo: Splash News/Corbis
After a harrowing 24 hours of rehab-dodging and lawyer-swapping, TMZ reports Lindsay Lohan checked in last night to the Betty Ford Clinic — the clinic that fired an employee for violating LiLo's privacy in 2010, prompting a multi-year legal battle between LiLo and the staffer.
Lohan danced on the edge of probation violations yesterday when lawyer Mark Heller stood in front of a Los Angeles County judge claiming Lindsay was "in the bosom of" Newport Beach's Morningside Recovery clinic, when in fact she was shopping at a place called "Fry's Electronics." E! says she rolled up to Morningside Recovery in her SUV, but did not get out of the car. Us Weekly says she went inside for a few minutes, then moseyed back out.
We can only assume that the paparazzi followed in hot pursuit, although the resulting blurry photographs suggest that they really weren't on their game. Neither, it seems, was LiLo: That is one hideous outfit. (Click to zoom.) Baseball cap, fringed suede jacket, black socks, and a white sheet tied around her butt? It's so poorly matched that I actually believe LiLo planned to go to rehab. The most stylish criminal in America would not dress so thoughtlessly on a day she planned to show her face in public.
Morningside Recovery was itself a last-minute substitute for a New York rehab clinic LiLo rejected when she discovered she could not smoke cigarettes there. The New York Daily News says the Morningside plan fell apart when "a member of Lohan's entourage was making last-minute demands late Thursday — regarding guests and cell phone usage — that further jeopardized her ability to formally enroll."
At the time, a Santa Monica City prosecutor told the News, "If she's not in Morningside, she's in violation of her probation. One of the issues we have is that her attorney said this morning she was already there." Now LiLo is at Betty Ford and has re-hired Shawn Holley, a lawyer who has saved her from peril many times. Holley spoke to prosecutors on LiLo's behalf, and the imperiled starlet seems to have checked into rehab before her midnight deadline, so she may be in the clear.
Lohan had to go to rehab because she pleaded "no contest" to lying to police and driving recklessly. That plea proved she was in violation of a probation she was serving after pleading "no contest" to the misdemeanor theft of a necklace. The necklace plea put her in violation of a probation she was serving for two DUIs in 2007 and a litany of other probation violations. Lindsay Lohan: our most poignant celebrity exemplar of the "cycle of criminality." She's a daisy chain of probation violations.
* This post has been updated with news.