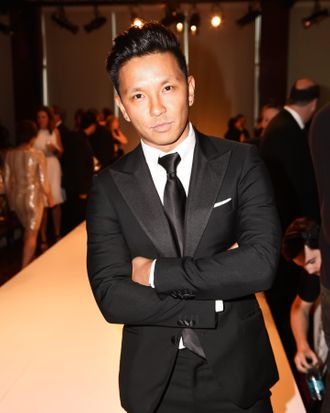 Photo: Matteo Prandoni/BFAnyc.com
It appears that, with the commercial-space-travel age dawning (a certain individual even shelled out $1.5 million dollars to sit in the same spaceship as Leonardo DiCaprio), standard airline companies are starting to feel at least a little bit of competition. Following in the footsteps of Sir Richard Branson, the man who not only created Virgin Galactic but also tapped Vivienne Westwood to redesign Virgin Atlantic's crew uniforms, All Nippon Airways (ANA) is the latest airline giving its crew a mandatory high-fashion makeover, using the designs of Prabal Gurung.
According to ANA Group, the redesigned uniforms have been commissioned in celebration of the airline's 60th anniversary (that actually happened last year) and will be worn by nearly 10,000 staff members starting in 2014. Gurung shared, "The new uniform will pay homage to the history of the airline while incorporating a fresh and modern perspective. I have been hugely inspired by this project, particularly incorporating my own personal passion for luxury and glamour with that created by ANA's Ground Staff and Cabin Attendants during the flight experience. I am looking forward to unveiling my designs in the coming months and watching them fly throughout the world with ANA."
So, which airline carrier will get a fashion makeover next? We're putting our bet on Air France.