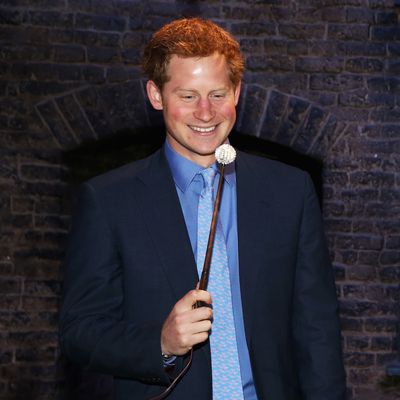 Photo: Chris Jackson/Getty Images
The delicate social hierarchy of Greenwich, Connecticut, has been overthrown in anticipation of a May 15 visit from Prince Harry, whose royal title is just about the only thing residents of the wealthy enclave can't buy. 
Only 400 people, including Karolina Kurkova and Olivia Palermo, were invited to the Prince's charity polo match, and residents have resorted to un-Greenwich-like tactics to score a ticket, according to the New York Times. Residents are crassly calling the Greenwich branch of the English-Speaking Union (which performs the noble work of "promoting English Language and Culture") offering cash for access to the prince. Locals have debased themselves by begging Peter Brant, Greenwich Polo Club founder — and father to that other Prince Harry — for permission to serve as the royal's volunteer "flag boy." (Polo's version of a ball boy, perhaps?) But not even Brant can count on the Prince's company. He invited Harry to a show at the Brant Foundation Art Study center but does not expect he'll make it because "it's all business once he gets here." It's Greenwich, after all, not Vegas.