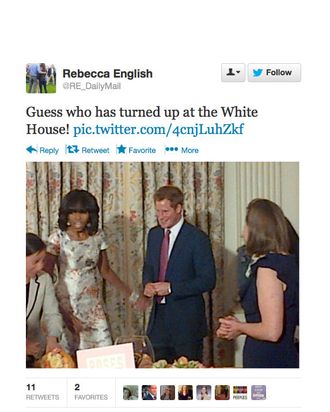 Michelle Obama and Prince Harry.
Photo: Rebecca English/Twitter.com
Prince Harry has arrived on American soil! His first order of business, before he loses his pants mounts a horse and gallops off to whack some balls in Greenwich: having tea and cookies at the White House with Michelle Obama. We can conclude two things about his visit from this blurry photo, courtesy of the ever-trusty Daily Mail's Twitter feed:
1. The ladies LOVE him. (Keep Malia away!)
2. Michelle Obama's dress literally matched the drapes.
Don't worry, we'll be monitoring his American tour with eagle eyes.