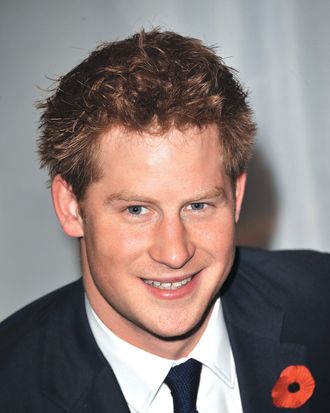 When Prince Harry revisits the New World this Thursday, his itinerary will include a week of official events: a visit to injured soldiers at Walter Reed; a tour of hurricane damage in New Jersey; the Warrior Games competition for wounded soldiers in Colorado; and a quick game of polo in Greenwich, Connecticut. It's a far cry from the last time the 24-hour-party prince was Stateside and making tabloid headlines. He might be on a shorter leash, but that doesn't mean he can't be given a big American welcome. Here, our dossier on the royal rebel.
Vitals
Born: 4:20 p.m., September 15, 1984, St Mary's Hospital, Paddington.
Age: 28

Principal Residences: Clarence House, London and Highgrove, Gloucestershire.
Education: Eton College, 1998–2003. A-levels in art (B) and geography (D).
Royal Military Academy Sandhurst, 2005–6.
*************
Who's His Daddy?
James Hewitt vs. Prince Charles
Ever since Harry's mum, the late Lady Diana, admitted to an affair with her riding instructor James Hewitt, the press has been speculating about Harry's paternity. It doesn't help that Hewitt and Harry have the same ginger hair and athletic build. Hewitt claims his relationship with Diana didn't even start until after Harry was born.
*************
In the Tabs
October 1999:
At the wedding reception of his former nanny, Tiggy, guests witnessed a 15-year-old Harry swallow his party favor in one gulp: a live goldfish.

January 2002:
After admitting to his father that he "took" cannabis, Harry was sent to the drug-rehab facility Featherstone Lodge, where he spent all of one day getting lectured by heroin addicts who told him weed was their gateway drug.
October 2004:
After leaving a London club one night, he cut a photographer's lip as he pushed the man's camera away. In another paparazzi incident, he was too tipsy to land an effective punch, falling on the ground before his handlers could catch him.

January 2005:
A younger, presumably less wise Harry infamously dressed up as a Nazi for a friend's colonial-and-native-themed birthday party. He later apologized for his "poor choice of costume."

May 2005:
After being fired from Eton, his former art teacher claimed to have written the prince's art exam. Harry denied cheating.
November 2006:
While vacationing in Namibia, he was videotaped snorting a shot of vodka and pictured with his mates as they suction-cupped wineglasses to their nipples. 

March 2007:
Harry conspired with brother William to record the voice-mail greeting of their grandmother, Queen Elizabeth. The message said, "Wassup, this is Liz. Sorry I'm away from the throne. For a hotline to Philip, press one …"

March 2012:
Harry is known for his passion for sports, including rugby, polo, skiing, and off-road motorbiking. On a trip to Jamaica, Harry challenged gold medalist Usain Bolt to a twenty-yard dash. The prince won after cheating with a false start.

August 2012:
Last summer in Las Vegas, he challenged Olympian Ryan Lochte to an impromptu 3 a.m. breaststroke race in the Wynn hotel pool before 5,000 partiers (Harry lost). He followed it up by inviting girls back to his VIP suite for a game of strip billiards (he lost that one, too).
*************
Captain Harry
Harry served first as an attack gunner and later as an Apache helicopter pilot during two tours in southern Afghanistan, logging 77 days on the front line, though he got called out for likening his gunner job to playing video games.
*************
How to Address Him If You're …
An army buddy:
Big H, Ugly, Bullet Magnet, Widow Six-Seven

His current girlfriend, Cressida:
Ken (he calls her "Barbie")

His ex-girlfriend:
Jam, Haz
His Facebook friend:
Spike Wells
A British tabloid:
Hot Ginge, Dirty Harry, The Playboy Prince, Prince Hurry, Boozy Harry, Flirty Prince Harry, Lusty Prince Harry, Cheeky Prince Harry, Caring Harry, Playstation Prince

The DMV:
Henry Charles Albert David Mountbatten-Windsor

Anyone else:
Your Royal Highness Prince Henry of Wales

Other Titles:
Commodore-in-Chief, Small Ships and Diving; Honorary Air Commandant of RAF Honington; Honorary Fellow of the University of the West Indies
*************
The Playboy Prince
Since his split with longtime girlfriend Chelsy Davy in 2010, Prince Harry has had an active romantic life. Click below to see just some of his rumored love connections.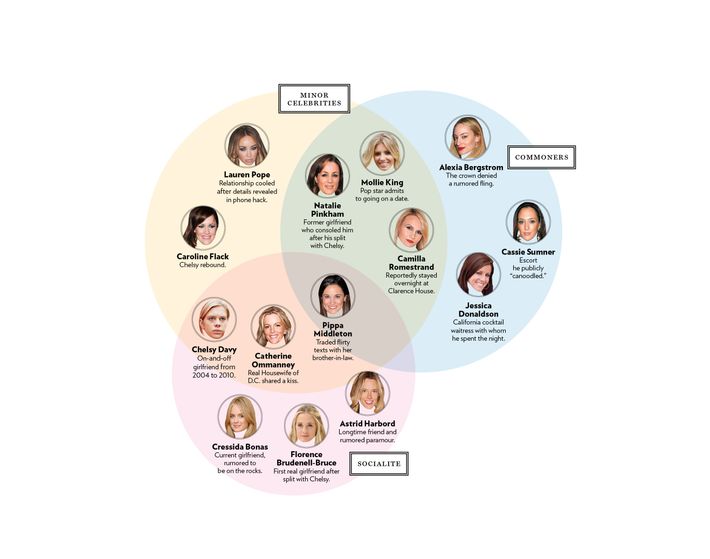 *This article originally appeared in the May 13, 2013 issue of New York Magazine.