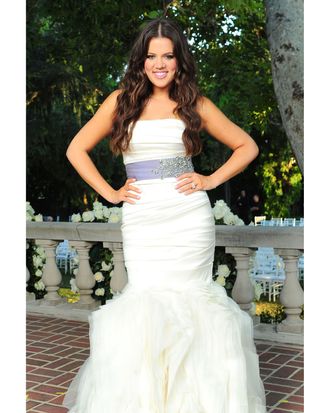 Khloe Kardashian's Vera Wang wedding dress.
Photo: JAKE HOLLY/www.startraksphoto.com
In her forthcoming memoir, With Patience and Fortitude, Christine Quinn will explore her past struggles with bulimia and alcoholism, which she disclosed to the Times yesterday. But she'll also address happier, fluffier topics, like her 2012 wedding to her longtime partner Kim M. Catullo, which involved an exhaustive wedding dress search. According to a book excerpt on Vogue.com, she very nearly committed the grave mistake of buying the same gown that Khloe Kardashian wore to wed Lamar Odom in 2009:
The first place we went to was Vera Wang, where I found a dress that I loved. That night, when I Googled the dress to show Kim, I found out that Khloé Kardashian had been married in that very dress, so there was no way I could wear it. I was devastated because that was my dress! I dramatically took to the bathtub and wouldn't talk to Kim. Clearly the pressure of finding the right dress was already getting to me.
After visiting countless more showrooms, Quinn finally settled on a strapless Carolina Herrera dress, which came with its own set of problems:
I'd had no intention of buying a sleeveless dress, because I do not like my arms, but that's what I wound up buying, and then I was in a panic. I began doing arm exercises with two-pound hand weights — even in the middle of meetings. It was crazy, but I'm not rational about my arms. Then it got even crazier. I began using dumbbells while I was being driven around during my workday. I wound up throwing out my shoulder. I learned my lesson: It's not a good idea to lift hand weights while being driven in an SUV on the streets of New York — while on a conference call.
Endearing, relatable, or just plain crazy? Probably some combination of the three, but her candor is certainly charming.