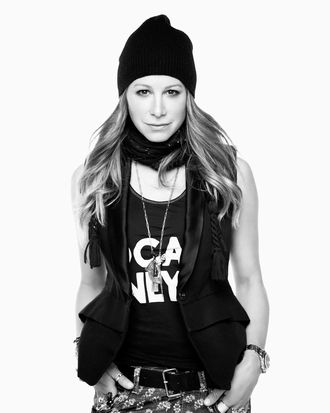 Photo: Courtesy of Jennifer Fisher Jewelry
Though she's always decked out in pieces from her popular line of gold, brass, and fine jewelry, Jennifer Fisher claims to have never worn jewelry before starting her own line in 2005. While maintaining a low profile with carefully selected retail and private distribution at her Soho showroom, she has cultivated her brand into near-cult territory —  her wares have recently been spotted on Kerry Washington, Katie Holmes, and Kate Bosworth, to name a stylish few, and most recently Rihanna, who paid Fisher a visit this week.  
Her hands and arms are loaded with gold, many of the pieces just as cool as she. Cuffs are adorned with Gothic script reading "NYC" or "U Wish," little skull charms have diamonds for eyes, and even her showroom is tricked out with python-printed wallpaper. Fisher sat down with The Cut  to talk about her inspirations, her style, and her darkly themed collection for Fall 2013.  Read ahead, then click into the slideshow for a look at her fall collection.
Who is the Jennifer Fisher Girl?
Someone who does not want to be like everyone else.  I make sure to have enough variation in the line to give everyone access to express their own personal identity.
How would you describe your aesthetic – your personal style as well as for your collection? 
Utilitarian with a laid-back sensibility. I dress from day to night daily which brings a casual edge to everything I wear. You will never find me in a skirt. Ever. As for design, all of my pieces are meant to be layered and worn daily, year round. The pieces are utilitarian too.
What inspires you?
I am constantly inspired by photography and architecture. Clean lines and geometric shapes are constants in my collections.
What inspired the fall collection?
I wanted to darken the line a bit and give it a moody aesthetic.  Not in a Goth way, but in a simple, abstract way.  Currently, I am loving Stanley Kubrick's pictures he took for Look magazine in the 1940s.
You sold privately for a long time. What encouraged you to make the move to sell more commercially?
When Mark Lee and Danielle Vitale (Barneys CEO and COO, respectively) show up in your showroom, you do not say 'No.' I had actually been creating larger statement pieces in brass for editors and editorial stories when Barneys came to me.  It was the perfect partnership at the perfect time.
After the success with Barneys, do you see expansion with other retailers in your future?
Timing is everything and Barneys continues to be my one large US retailer. I never intended to sell commercially and I still do not.  We keep the line to limited distribution for a reason. Who wants to have the same jewelry as everyone else?  Selling directly to the consumer is our main business here for fine jewelry and the new revamped website will be launching in September, hopefully changing the way women shop for fine jewelry on the web.
You are known for piling on your jewelry and making it look effortless.  How would you encourage others to adopt a personal style when it comes to jewelry?
The key is to be yourself.  None of my employees, friends, or clients wear the jewelry the same way. That's the point. As for me, I never wear earrings so I make up for it on my hands and wrists. That is why my line is so heavy in bracelets and rings.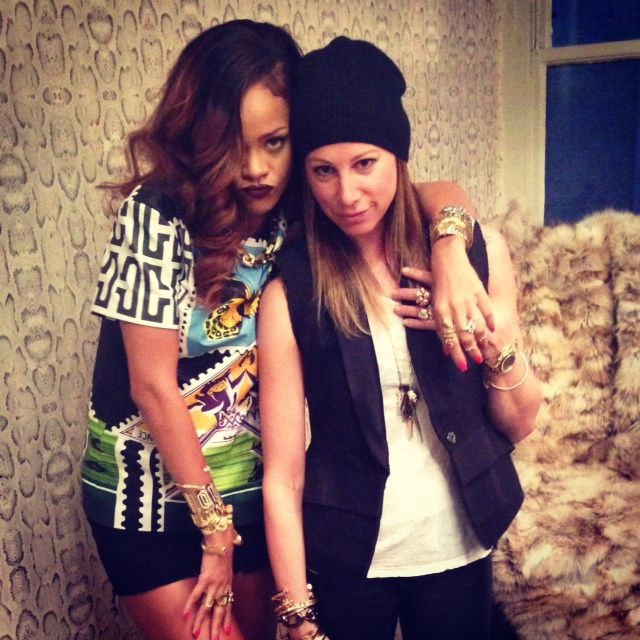 Who is your dream client?
Diana Vreeland, but unfortunately that is not happening.  She hands down had the best sense of personal style, ever.
What interests you outside of fashion?
I'm really drawn to home interiors and food, and surgery. I always say I wish I was a surgeon and studied medicine not marketing, but if I was not a jewelry designer I would probably be a chef or an interior decorator. Cooking and decorating are the two things that actually allow me to relax.
Describe the perfect outfit to wear with your jewelry.
Please, anything! Personally, I have to of include some form of leather pants (Les Chiffoniers, Helmut Lang or Balmain), boots from Rick Owens or Alaïa, and a cashmere beanie (Lanvin or Steven Alan).
How did it feel to be nominated as a finalist for the 2010 CFDA/Vogue Fashion Fund?
Next to having my children and getting married, it was a big one on the life of highlights thus far.  It feels amazing to be recognized.  There are designers I truly admire that did not make it in, so the feeling is surreal.  It validates all of the blood, sweat, and tears that you pour into your own business. It feels like you are finally doing something right.
What is the one piece of jewelry you cannot live without?
I am never without my charm necklace.  To this day, I still wear my first dog tag, with my son's name (Shane) on it, that started the company. And with the additional ten charms that are always on there, each represents something special, a milestone, my life.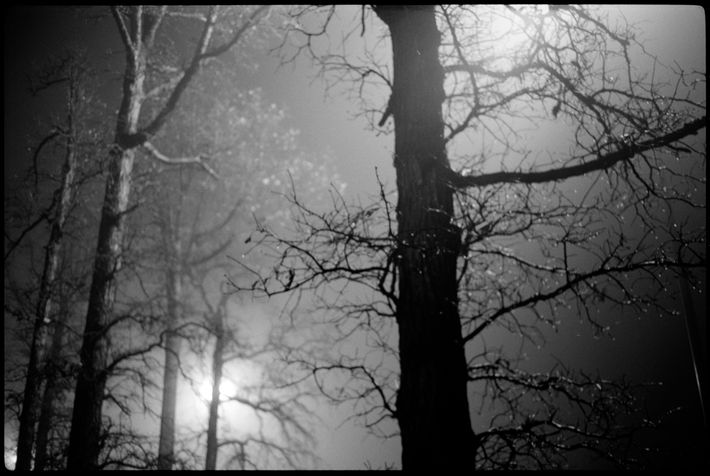 "I wanted to darken the line a bit and give it a moody aesthetic, not in a goth way but in a simple, abstract way." – Inspiration shot.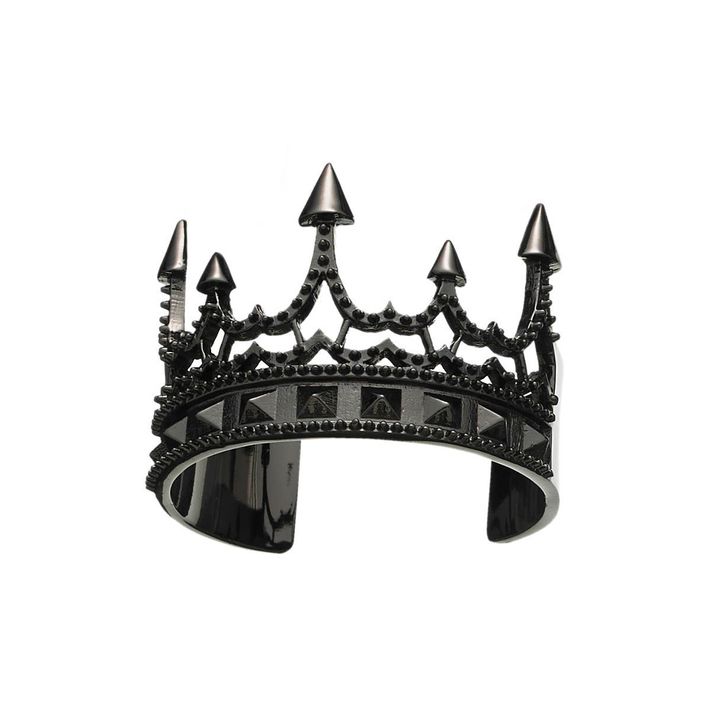 "I am really drawn to metal rather than stones these days." – Jennifer Fisher brass black crown cuff, $635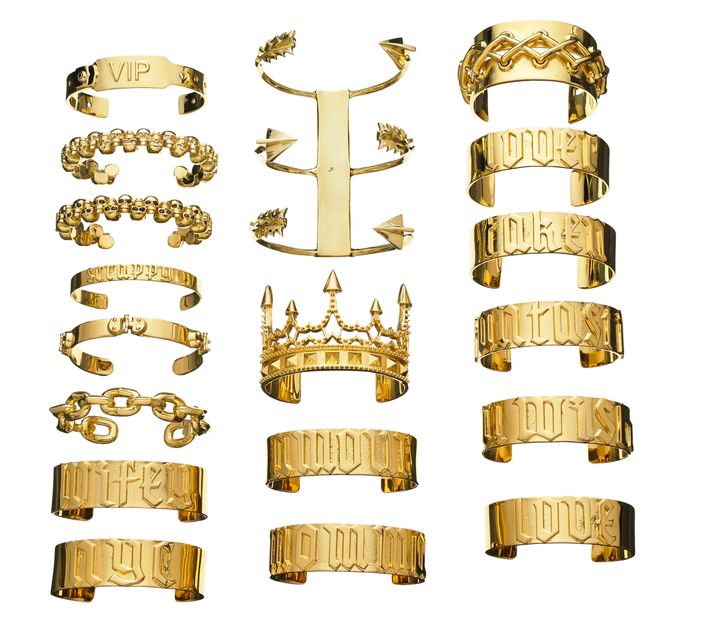 "All of my pieces are made to be layered and worn daily, year round.  Like my own style, the pieces are utilitarian as well." – Jennifer Fisher brass cuffs for Fall 2013.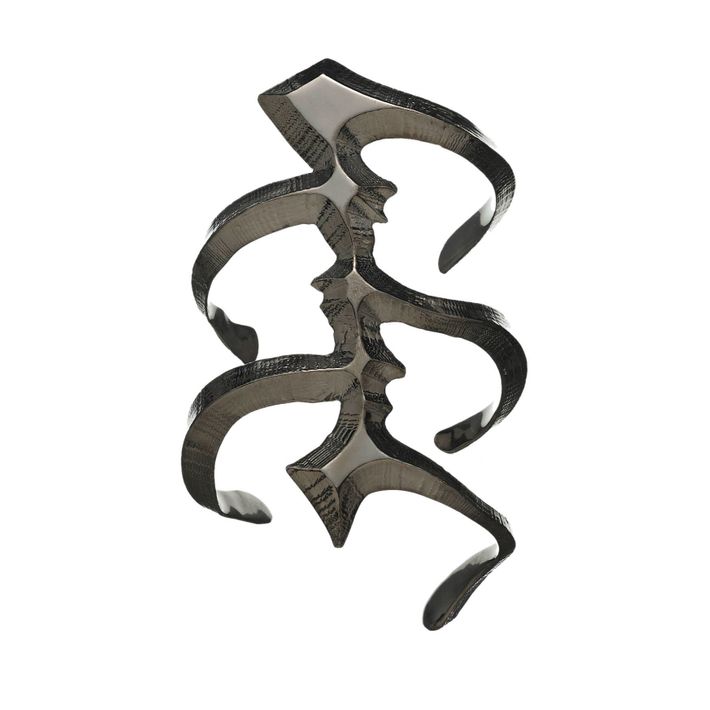 "I love E.B. White's quote: 'No one should come to New York unless they are willing to be lucky.' This is the inspiration for my fall collection The Dark Side, debuting at Barneys." – Jennifer Fisher black brass vertebrae branch cuff, $1,375.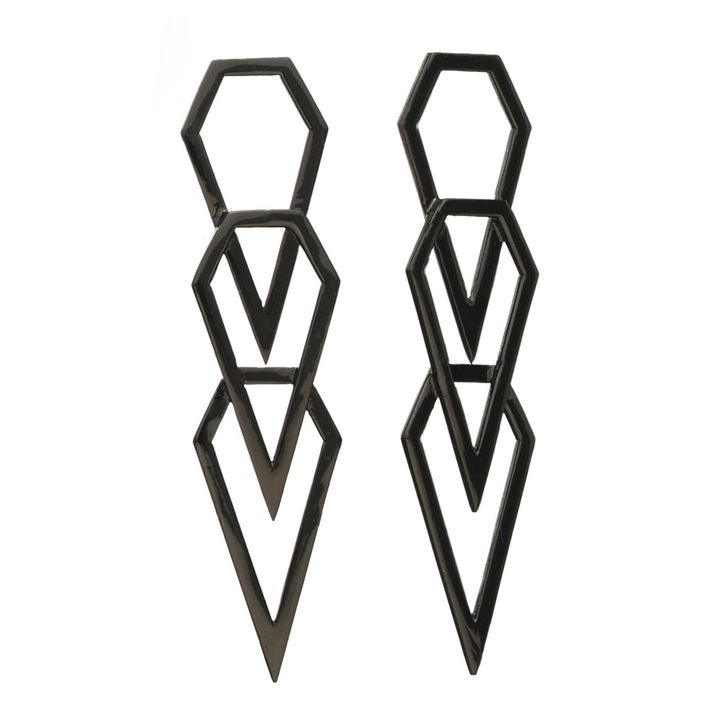 "I'm into clean lines, varied textures and color but with a seamless connection throughout." – Jennifer Fisher brass black 3-tier gem earrings.