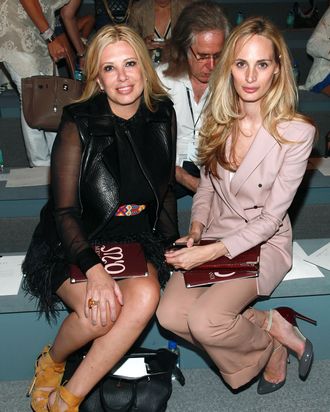 Aslaug Magnusdottir and Moda Operandi.
Photo: Astrid Stawiarz/Getty Images
The Post reports that Aslaug Magnúsdóttir has left her job as CEO of Moda Operandi, the chi-chi fashion e-tailer she co-founded with Vogue contributing editor and Perrier heiress Lauren Santo Domingo. This development comes just weeks after Moda bankrolled the Met Gala, with Santo Domingo serving as co-chair in gigantic puffy sleeves. Magnúsdóttir, who has an MBA from Harvard, was considered the business brains behind the company; she previously worked at Gilt Groupe and TSM Capital, an investment firm she started in 2007 with former Bloomingdale's CEO Marvin Traub. So why'd she leave? According to the Post's source, "Lauren felt Aslaug wasn't hip and cool enough." Or maybe she just got sick of all the workplace-enforced juice cleanses.