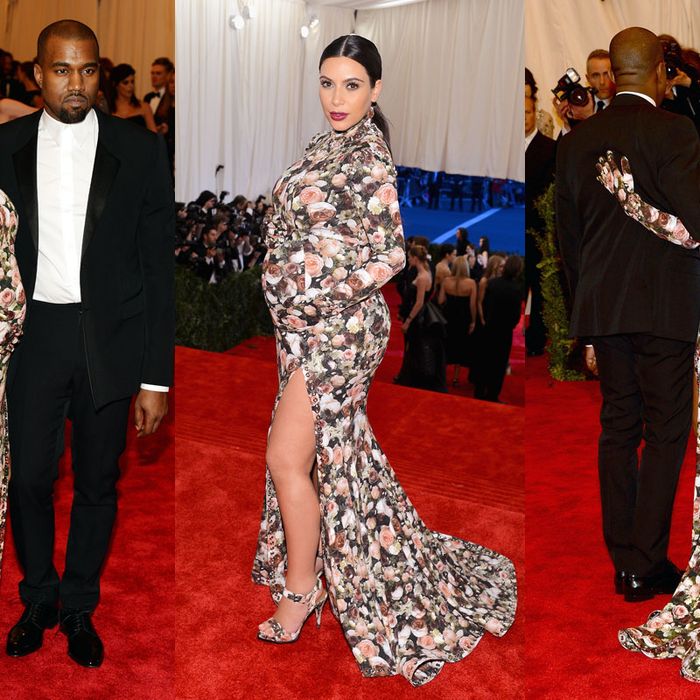 Kim Kardashian in Givenchy.
Photo: Getty Images
Givenchy's Riccardo Tisci dressed a total of thirteen major guests for this year's Met Gala, including co-chair Rooney Mara, punk legend Debbie Harry, diva-in-chief Beyoncé, and all-around red carpet winner Madonna, whom he personally escorted up the stairs. But perhaps his most controversial design was the floral dress with attached glove-sleeves worn by Kim Kardashian, who made her much-discussed Met Gala debut on the arm of Kanye West. (Vogue.com made their opinion of her quite clear by literally cropping her out of Kanye's picture in their red carpet slideshow.)
But Tisci stands by Kim, and spoke to WWD about the outfit in question — which, incidentally, looked like the most comfortable thing she's worn in a while.
She is a really good friend, and I am very happy she came to the Met for the first time. I love Kim. Doing maternity was fantastic. I wanted to have a Kim Kardashian moment, because Kim always supports me. She is the future wife of a really good friend of mine. I wanted to have a moment of family … Kim, Kanye and the baby. It will be a family that I will be close to. Kim said, 'Ricky, I love what you're doing so much, I am in your hands.' I said, we should give her our punk moment with a romantic beautiful flower-printed dress. I have dressed many pregnant women in the past. People can say what they want. To me, pregnancy is the most beautiful thing in the world, and when you celebrate something, you give people flowers. I think she looked amazing. She was the most beautiful pregnant woman I dressed in my career.
The MOST beautiful! And at the end of the day, Riccardo Tisci > a gazillion Internet haters. (P.S. Does this count as an official engagement announcement? WHAT IF THE GLOVE-SLEEVES WERE JUST TO HIDE THE RING?)