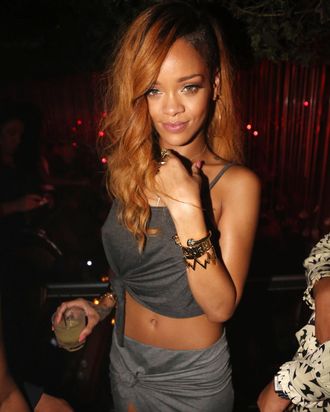 Rihanna.
Photo: Johnny Nunez/WireImage
Rihanna was once such a fan of Topshop that she spent five straight hours shopping at its London flagship store. There were even rumors of a potential collaboration when she was photographed tossing back margaritas with Topshop owner Sir Philip Green in Barbados (a sign of fruitful business dealings if there ever was one!). But now it appears their relations have cooled: The Post reports that she's suing the brand for $5 million after they refused to stop selling a T-shirt printed with a photo of her face.
According to the Post's source, Rihanna's lawyers have been trying to negotiate with Topshop's parent company, Arcadia Group, for eight months now, but British law doesn't require any action. The source says:
Rihanna's management asked Topshop a number of times to stop selling her image and were told, 'We do what we want.' They buy the pictures from a photographer, but they do not pay the artist licensing fees. Unfortunately, UK law does not protect the artist…

Even though the UK laws don't protect the artist, she has decided to move forward and sue Topshop. She has spent almost $1 million in litigation at this point. She says it's the principle, and wants to make a statement about it. They are taking advantage of artists. It is just exploitation. What they are doing is wrong.
So basically, she's suing them even though British law doesn't recognize her basis for complaint? This seems unwise, but regardless, Rihanna has hired international law firm Reed Smith to file the claim in London. Topshop hasn't responded officially, but a source from the brand says that the problem stems from the third party who makes the T-shirts that Topshop sells. (Granted, Topshop is just as guilty because they're still profiting from the transaction — it's sort of like how Forever 21 turns around and blames their suppliers whenever they're caught selling knockoffs.) High-profile cases like this often get settled out of court, but Topshop seems to have the upper hand in this one, so stay tuned.