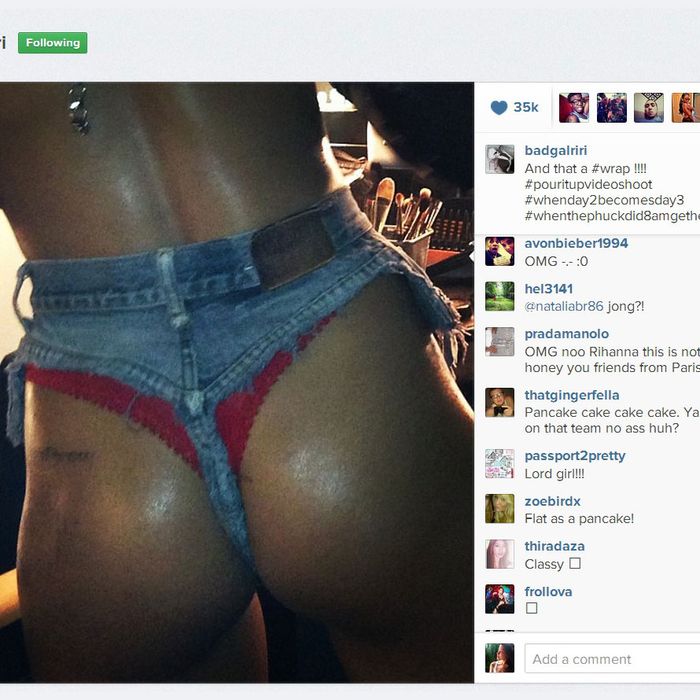 Photo: badgalriri/Instagram
This morning, Rihanna posted a photo of her butt in a denim thong on Instagram. She later deleted the image, but not before the Cut's internal chat room erupted in debate. Are denim thongs a crime against humanity? Are they more like jeggings, or more like a skort? What is the fashion precedent for this look? Why is Rihanna's butt so shiny?
Join our great debate.
Maureen O'Connor, Writer: Do we need to discuss Rihanna's jeans-thong? (Jongs?!)
Diana Tsui, Market Editor: Oh my god.
Christina Han, Beauty Editor: Is that her actual ass?
Maureen: Yes. That's her Tibetan "lover" tattoo on the left cheek.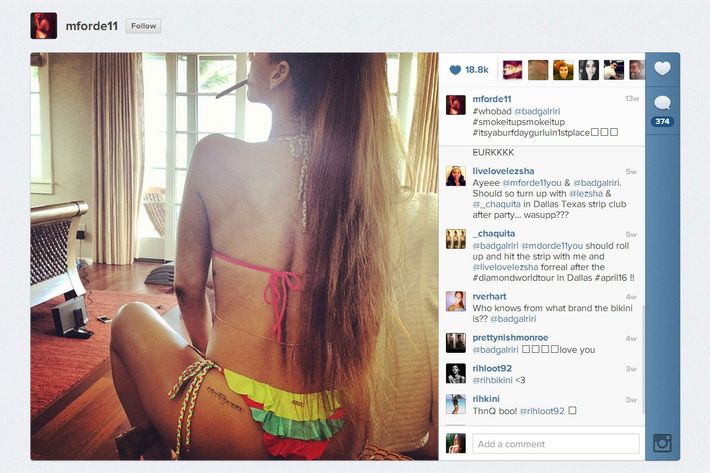 Charlotte Cowles, Writer: To be fair, it's an accessible look. Anyone could make that!
Maureen: There is a clubwear precedent for denim thongs on females. This website used to sell them: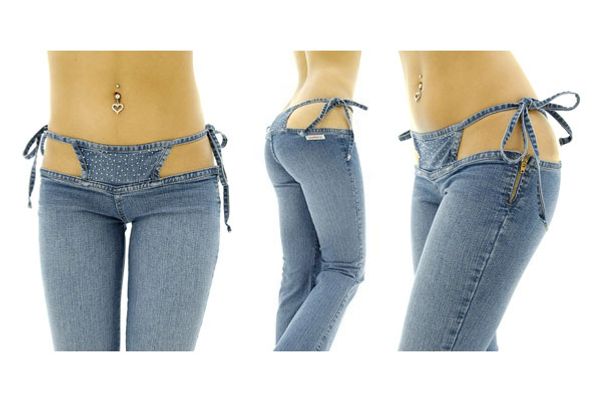 Stella Bugbee, Editorial Director: No one ever wore those.
Diana: Look out, Maureen will find proof.
Maureen: They were on a Japanese TV show: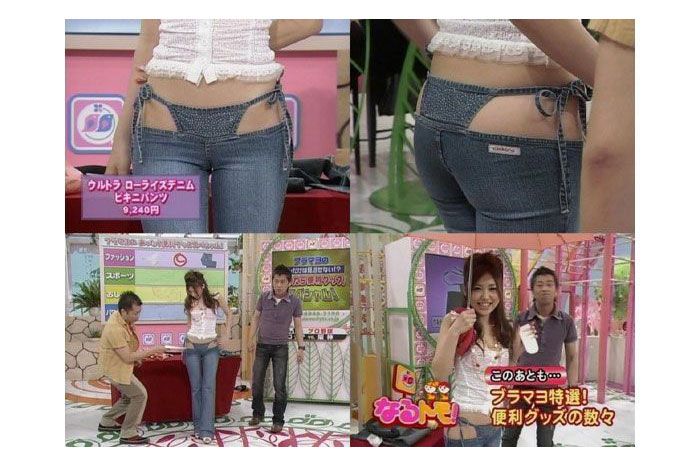 Maureen: BUT BACK TO RIHANNA.
Kat Stoeffel, Writer: It is worth noting that before being hacked into a torture device, Rihanna's jeans were already up her ass. Like, if you did that to my jeans, the butt-seam would hang like a half-inch below my actual butt crack.
Charlotte: On second thought, this could be a great way to recycle jeans that your ass has outgrown.
Maureen: I actually find the concept of layered thongs EVEN SCARIER than a denim thong.
Stella: Layering of thongs is like — just get a butt plug.
Maureen: It's like the grossest concept in female hygiene, the "Thong Pantiliner":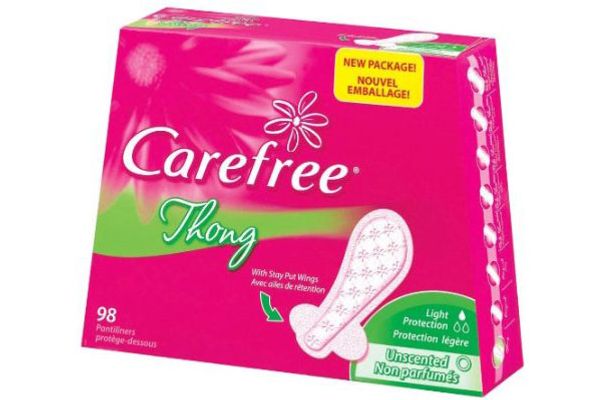 Sally Holmes, Producer: Rihanna's layered thongs are kind of like a skort. A twofer, thong and shorts.
Charlotte: I love skorts!
Stella: I love sporks!
Maureen: The other good thing about Rihanna's look is that the thong is not visible from the top, but from the BOTTOM. As in, not a thong sticking out above the edge of low-cut pants, but the thong itself. And bottom-thong exposure means exposing the WHOLE BUTT, which on a body like Rihanna's is way more fun to look at.
Kat: Yes, this offers a radically new perspective on thongs.
Charlotte: More of a pants problem than an underwear problem.
Stella: No amount of Gwyneth almonds will make your ass look like that.
Benina Sax, Social Media Manager: I dare someone to actually dress the way Rihanna does, IRL. Open shirts, jean thongs, etc.
Kat: If she makes this into a trend, I will be so mad. The only way she can atone for this, in my eyes, is to auction the butt sling off for a worthy charity after the shoot.
Maureen: A charity that provides colonoscopies. A charity that funds pap smears.
Emily Shornick, Photo Editor: A charity that fights yeast infections.