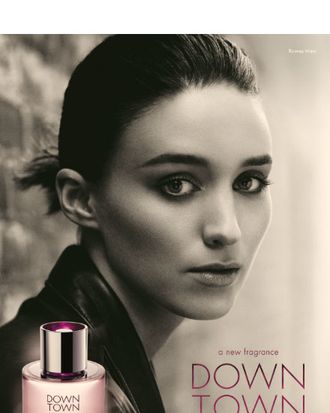 Rooney Mara's new ad.
Photo: Calvin Klein
The courtship between an actress and a major fashion label, now almost a rite of passage for starlets, is a long and complex process. For Rooney Mara and Calvin Klein, it's quite possible they've been flirting with each other for over a year; she's been wearing designer Francisco Costa's outfits on red carpets since late 2011, and his fashion show is one of the only ones she's ever attended. But at long last, now it's official: She is the new face of Calvin Klein's "Downtown" fragrance, which comes out this July.
The announcement comes on the heels of Mara's co-chairmanship of this year's Met Gala, which brought her a fair share of publicity (including a second Vogue cover). This summer, she'll make the rounds for Ain't Them Bodies Saints, her new movie with Casey Affleck, which will give her plenty of opportunities to wear Calvin on red carpets.
So what kind of consumer is Mara supposed to resonate with? Coty SVP Catherine Walsh tells WWD that "Downtown" will be marketed to women ages 25 to 35 who "see downtown as a place they want to be" and "identify it with youthfulness, edginess and cool." In ad form, this translates to Mara leaning against a brick building in a black leather jacket, her eyes rimmed with smokey liner and her hair slicked back. There will also be a set of TV commercials directed by Dragon Tattoo's David Fincher. A package deal! Can they fit Daniel Craig in somewhere, too, please?