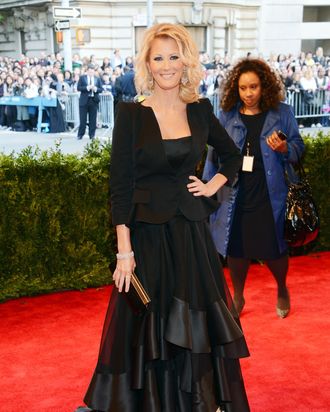 Photo: Larry Busacca/Getty Images
Remember the white umbrella cockatoo Governor Andrew Cuomo gave girlfriend and Food Network star Sandra Lee? The one she named "Phoenix," for the mythical bird that, like Cuomo and Lee, rises from the ashes of first marriages? He ate the Vivienne Westwood gown Lee had been planning on wearing to the Met Gala. She told the New York Times' "What I Wore" column: 
"Fed my pet white umbrella cockatoo, Phoenix, his breakfast. Two weeks before, I had received my invitation to the Met Gala excited about this year's theme: punk. I had a Vivienne Westwood dress, midnight black, perfectly beaded bodice and floor-length multilayered tulle skirt — perfect for the gala. I entered the walk-in closet to find Phoenix had severed nearly every bead, crystal and pearl from the dress. No joke."
Lee went with the Alexander McQueen she bought for Elton John's birthday, instead. That doesn't explain why Phoenix had run of the walk-in, but getting dressed in the company of one of these guys does sound glamorous, in an eccentric billionaire kind of way.