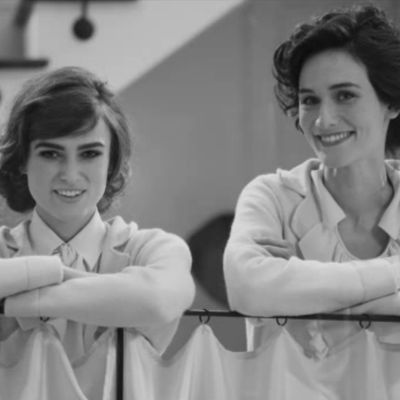 Keira Knightley for Chanel.
The script for Karl Lagerfeld's latest Chanel video is terribly awkward, but who cares! The exquisite styling and fabulous feathered hats totally make up for it. Filmed in black and white and starring Keira Knightley as Coco Chanel, it portrays the young designer as a struggling shopkeeper hurting for business. (Perhaps this has something to do with her staring mournfully out the window at perspective clients.)
But soon a parade of rich, beautiful, impossibly tall women — Ashleigh Good, Tallulah Harlech, Caroline de Maigret, Amanda Harlech, Stella Tennant, Jamie Bochert, and Saskia de Brauw — come trouping through her boutique and buy up all of Coco's merchandise. The best moment by far is Lindsey Wixson's priceless line, "I'll take everything. I'll send for my secretary. By the way, I'm Miss Vanderbilt." And don't miss little Hudson Kroenig, who gets a cameo as Chanel's nephew.