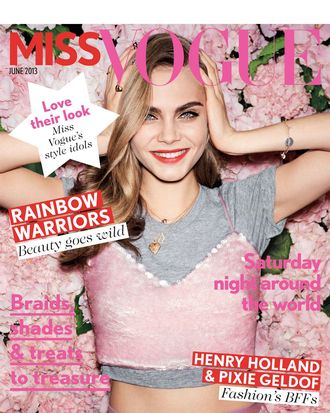 Photo: Angelo Pennetta for Miss Vogue
As previously reported, Miss Vogue has landed on U.K. newsstands, sold with the latest issue of British Vogue and emblazoned with cute coverlines like Henry Holland & Pixie Geldof: Fashion's BFFs and Braids, shades & treats to treasure.
Back in February, editor Alexandra Shulman told the Cut to expect something eclectic but aspirational. So how did that work out? We delved in and gave it a close read, so as to work out where Condé Nast is headed with this, and how successfully they're doing it.
The content
Setting itself up as a Brit girl's best friend, with an intended audience of girls aged 15 to 24, Miss Vogue nails the tone. The through-line of all 112 handbag-size pages is one of encouraging readers to get creative — whether that applies to lipstick, careers, or how you decorate your bedroom.
For aspirational content — the manna of all magazines — there's Miss Vogue's "21 Under 21 Style Idols," featuring fashionable youngsters like Lourdes Leon (16) and punk model Charlotte Free (19). There's also a cautionary, non-anonymous tale about dating a celebrity ("Superficial luxuries such as first-class flights, backstage passes, event invitations — things that shouldn't matter in the least — became the things by which I began to define myself" — think about that before you start dating Harry Styles).
As promised by Shulman, there's plenty of beauty content — much of which is a palette-refreshing contrast to the makeup and skin-care features found in grown-up magazines. Here, beauty is all about being different, not polished: We have 'dye-brows' (high-pigment colors painted on to brows), multicolored hair wraps, and false lashes in the shape of the London skyline — which look like they'd be exhausting both to apply and to wear, but my 18-year-old self would have been all over them.
Though cover star Cara Delevingne has suffered a little from overexposure in recent months, she suits Miss Vogue and it suits her. Inside she's styled in preppy separates, lounging in a garden and frolicking with a little dog. It's all ridiculously wholesome and upbeat.
In contrast, some of the non-fashion content feels surprisingly frank. One 18-year-old interviewee says she's been drinking since she was 15, and likes red wine or vodka shots. A teen panel in another feature discusses drugs and sex, with one girl explaining "[at school] there were certain pressures not just about having sex but about your body — that girls would shave off all their pubic hair, for example." These are all issues that kids are facing, so it feels refreshing, if a little unexpected, to read about them so explicitly in a glossy Vogue title.
The brands
It was always going to be interesting to see how Vogue, in love with luxury above all else, would deal with readers who are likely to be on a (much) smaller budget. To do that, they've commendably erred towards low-price brands like Topshop, Forever 21, and American Apparel, but also included a generous sampling of (again, aspirational) designer labels.
The shopping section is opened by a feature called "Fairy Godmother Buys," which is a selection of pricier items "to wish for from your Fashion Fairy Godmother" — these include an Hermès bracelet (about $1,087), Valentino sandals (about $722), and a Leica personalised camera (starting at $2,655). No news on where you find a Fashion Fairy Godmother, though.
One feature well is given over to Meadham Kirchhoff, the London-based design duo known for a whimsical, costumelike approach to style. Later we have Henry Holland being interviewed by his friend Pixie Geldof. There's a reason why Shulman has chosen these creative, London-based designers to feature above others in her first issue: they capture the mood of British youth.
The girls
Who's the Miss Vogue girl? She's smart, opinionated, and as self-involved as every other teenager ("I literally don't read any books," says one interviewee proudly).
She's also working hard and partying, too. One story gives style advice to fashion interns, while another looks at the social lives of teens around the world (from Moscow: "Because of my dad's work — he trades oil — I have a bodyguard, which sucks." Hey, we've all been there). Elizabeth Olsen is the issue's beauty Q&A, while Homeland's Morgan Saylor is the subject of a down-to-earth "regular girl" interview and fashion shoot.
Tavi Gevinson has also been brought in to write about the latest must-have accessory: the crown. In high school, apparently, making-your-own-headpiece is the new sticking-pictures-of-Jared-Leto-to-your-notebook. "A DIY'd hodge-podge crown, full of teenage iconography, is the most blatant way to let people know that you're now totally into John Waters," explains Gevinson.
The inaugural issue of Miss Vogue captures the rebellious quality of being a teenager, and the quest to be different, yet makes it all look Vogue-ishly expensive and shiny. A source at Condé Nast told us that if the first issue is well-received, they might publish another one later in the year, again as a double issue with British Vogue. With Condé Nast's current money-spinning drive, we'd expect it to be a standalone title by 2014. And then, hopefully, it ages better than Men's Vogue.