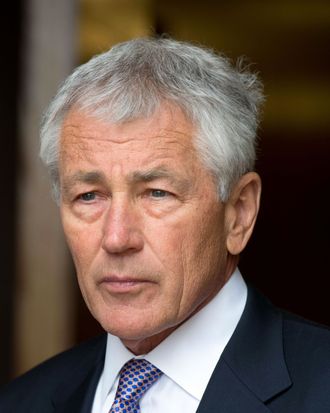 Photo: Maurizio Gambarini/Corbis
With guys like alleged groper Lt. Col. Jeffrey Krusinski running sexual assault prevention in the Air Force, it will surprise few that sexual assaults are on the rise in the military, and still dangerously underreported.
According to a new Pentagon report, the number of reported sexual assaults among service members rose 6 percent in 2012, to 3,374. Despite former Defense secretary Leon Panetta's sexual assault prevention measures last year, an anonymous survey suggests as many as 26,000 military members may have been assaulted and never reported their cases, up from an estimated 19,000. In response, Secretary of Defense Chuck Hagel promised to increase officers' accountability for what happens under their commands, the AP reports, tasking them with establishing "an environment of dignity and respect."
The president has a tougher program in mind. Speaking with reporters today, Obama deemed the Pentagon statistics a betrayal of the uniform that's "not patriotic." He leveled some blunt expectations at Hagel. "I expect consequences," he said. "I don't want more speeches or awareness programs or training programs but folks ultimately looking the other way. They've got to be held accountable. Prosecuted, stripped of their positions, court marshalled, fired, dishonorably discharged — period."
Meanwhile, on Capitol Hill, more concrete measures are in the works, with legislation that would revoke military officers of the authority to overturn sexual assault convictions (as recently happened), take sexual assault charges out of the chain of command (a major obstacle to reporting for victims who fear retaliation), and provide victims with special military lawyers. The Senate Armed Services Committee took Air Force chief of staff General Mark Welsh to task today over Krusinski; Welsh said the Air Force had requested jurisdiction of his sexual battery charge and he will be arraigned Thursday.
Wired's War Room obtained some of the sexual assault prevention materials distributed in the Air Force — whose Lackland base is still embroiled in a massive sexual assault scandal that implicated dozens of training instructors — and found the brochures contain outdated advice that asks potential victims to prevent their own attacks by not looking vulnerable, watching out for people with "hyper-masculine attitudes," and "submitting rather than resisting." Here's hoping they get a rewrite soon.