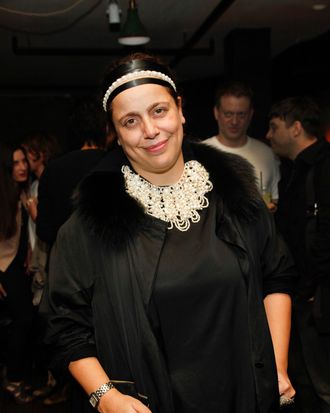 Photo: Adriel Reboh/patrickmcmullan.com
You might've heard of Ikram Goldman because she dressed Michelle Obama in up-and-coming designers like Thakoon, or because she front rows just about every Fashion Week. Goldman owns the ultra-high-end clothing shop Ikram, and has exactly the personality of someone with all those credentials. In New York, she would run in haute fashion circles, maybe become a minor street-style celebrity, and generally blend in with the power women of the industry. But Goldman has something that makes her special: She lives in the middle of the country, and she doesn't wear Merrells. It's truly remarkable.
So suggests this weekend's New York Times Magazine profile of her. The piece's author, Susan Dominus, is most struck by how bold and intimidating Goldman is, a quality that is often called out in women as bitchiness, but here is more of a novelty. After all, this woman somehow managed to escape Midwestern housewifedom. How quaint! Dominus recounts Goldman's Wintour-ish demands ("You'd better have more colors than this") and her "intensity that can be rattling," with a breathlessness that is usually reserved for American Idols who were living in their car just a few weeks ago. "Goldman was not born into fashion," she writes. "[She] briefly moved to New York with her brother but did not last long. 'Too lonely,' she said."
It's not uncommon for New Yorkers to assume that Midwesterners (present company included) are soft-spoken frumps whose style, best case scenario, falls under "adorkable" and, worst, might be more in burlap sack territory. But is it really that crazy that someone in Chicago, the third largest city in America, could be powerful in the fashion world? Sure, the Midwest isn't a very trendy place, but it's also not the graveyard of female creative talent it's often made out to be.