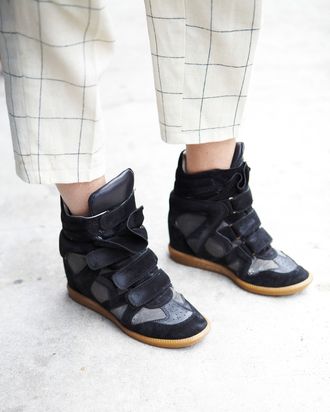 Carlyne Cerf de Dudzeele, the legendary stylist and former French Vogue fashion director, wears Uggs. She wears them everywhere — dinner, fashion shows, jobs; in fact, she was thusly shod for her own portrait shoot with Steven Meisel for Interview magazine. Azzedine Alaïa wrote the article. They're the classic version — the shearling kind with the squishy tread and the enormous, cartoony toe box — in black. On her, the squat, gormless boot, beloved by middle-American "cool moms" and white-guy-dreadlocked Australian surf types, looks compelling. The nerve required to pull this off blows my mind. It fills me with a low-grade rage.
I have horrible shoe hang-ups. Particularly when it comes to flats. From the first time I harangued my mother into buying me a pair of platform sandals at the irascible and persistent age of 11, I've worn heels. It sounds pedo and gross, but it was a boon to my chubby pre-adolescence; it was like losing five pounds instantly. It was magical, a sleight of foot. I adored a loud, big, kinderwhore nineties heel. I was deeply and equally influenced by En Vogue and Clueless, so whether I was wearing black shorts, a cropped mock turtleneck, or a maroon minidress from Contempo Casuals, I was never without platforms (and a velvet choker). I'm pretty sure I peaked at 15.
Platforms have been a crutch since then. You know that thing with low-carb tortillas where, if it has fiber in it, it means it has fewer grams of net carbohydrates? I've been relying on the same dubious math when it comes to shoes. A five-inch heel only clocks in at three inches if it has a two-inch platform, right? It's a lovely change of pace not to be hoisted atop an extreme pitch, but it doesn't negate how three inches can still suck.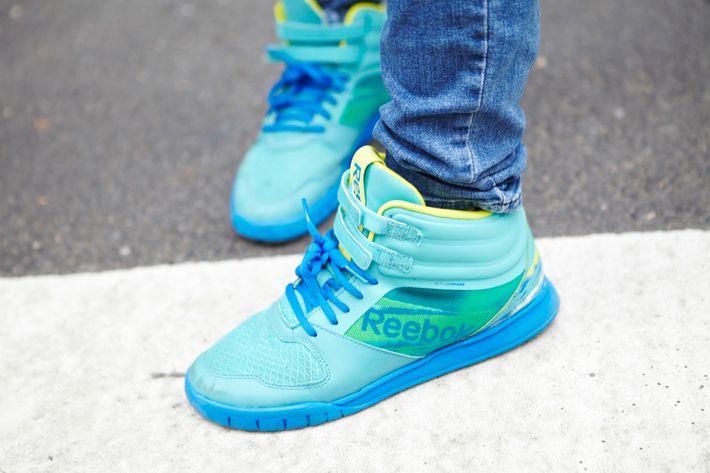 You'd think the arrival of the Isabel Marant platform sneaker two (long) years ago would have heralded salvation. A two-inch concealed wedge in a comfortable-seeming high-top was a game-changer. Everybody loved them, especially since the tongue was oversize to diminish even a hint of potential cankle. It's just that I couldn't abide by the terrorizing $700 pricetag for a new, non-deadstock sneaker when there was zero guarantee that they'd alleviate any of the throbbing that accompanied the various wedges I already owned. Trust the excruciating, expensive-ass devil you know, right?
It's not as if they were first in the wedge-sneaker game anyway (the DIY flat-form rave sneaker is another matter altogether). Ash, the European footwear company founded in 2000, had been doing it for some time; their most ubiquitous model took what was essentially a Chuck Taylor and slapped on straps, buckles, and a heel that was far too obtrusive. It looked too much like what it was: a sneaker and a heel all at the same time. It reminded me of the Timberland boot stiletto made by Manolo Blahnik (and subsequently ripped off by Steve Madden), an inelegant tragicomedy of Frankenshoe by committee.
Late last year, when Nike Sky His began appearing alongside the $500 Robert Clergeries at Barneys, however, I felt I'd found my wedge for a new era. They were Dunks by rights — which I knew meant comfort. And they were purveyed in fantastic colorways at a manageable price point (ranging from $120). Do Sky His beat the system? Do they not reek of capitulation in that way that Toms do? They were certainly less basic than ballet flats and not as bafflingly overpriced as Swedish clogs. But they were sneakers that still thrummed with the undercurrent of too much effort. It's dishonest without quite getting away with it. Like a man in lifts. What I wanted was what breezy confident waifs experience when they slide into a pair of Vans on a bright summer morning and don't think about them again until they kick them off the morning after.
If you look at the effortlessly chic — the Cara Delevingnes, Sofia Coppolas, and Zoe Kravitzes of the world — few of them wear fuck-off cripple heels or even, really, sneaker wedges. They tromp around in intellectual, sculpted two-inchers or beat-up boots or wing-tips or regular sneakers or else wear massive, mannish Celine slides. The Dunks were a stopgap, but my insistence on refusing flats — as to accentuate my calves — regardless of circumstance or terrain smacks of a blatant insecurity and betrays an overwrought notion of what it means to appear "put together."
Besides which, my legs, especially my knees, are jacked beyond redemption. Clattering over concrete in New York for the last decade, hoofing from meetings to parties, refusing to surrender to the searing pain in my feet (and my howling, popping patella cartilage) has left me with joint pain and an overreliance on taxis. It's not okay that I'm not okay with shoes that look comfortable enough to be comfortable.
I've never been a fan of the plimsoll — they look like a shoe that would appear on a foreign-language flashcard — but I believe I've found this summer's solution in Nike Roshe Wovens. They're made of interlaced, flat, grosgrain ribbon, in a matte black (of course) and have a pliant, lightweight sole. They're strange and are not entirely unlike Crocs for goths. Except that they're slender, nimble, not a lick like Vibram Five Fingers, and actually serve a soupcon of Antwerp. Coupled with an architectural, amorphous black dress with a silhouette of a perfect circle, they look quite beautiful. Thoughtful. Cool. They are my black Ugg. Hopefully I'm getting away with them.