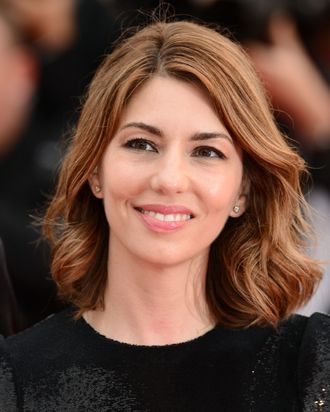 Photo: Ian Gavan/Getty Images
The Bling Ring director and mother of two girls recently sat down with her old friend, socialite Lee Radziwill, to discuss fame, the normalization of "trash culture," and privacy in T. (Radziwill herself was a T cover girl back in February.) Below, some juicy excerpts.
On the horror of Coppola's daughters turning out like the characters in The Bling Ring:
Radziwill: Imagine if your girls were as obsessed with celebrities and clothes! You would be in such despair.

Coppola: I know. I don't know if I would have been as interested in this if I didn't have daughters and know that they're growing up in this world. I think that's the way that it's affecting, because these are kids in the movie, they're so young and impressionable.
On the value of privacy:

Coppola: To be private seems normal to me. In a magazine recently there was some personality talking about some private health issue, and I thought, Why not keep that private?

Radziwill: You keep yourself at a distance without being unfriendly. You have dignity, which is really rare in the entertainment world. Everybody wants to be out there until you're so sick of their faces and their magazine covers that you think, Oh no, not again. With you, at first I thought, Well, she's incredibly shy, but I understood it so well.
On youth being so fame-hungry these days:

Coppola: Romy [her daughter] is in the Girl Scouts and I was around this group of 6-year-olds, and we were talking about things and a few of them said, "I want to be famous." I thought, Where does that come from? I don't think we knew about that when we were 6 years old.

Radziwill: What do you think made these kids that way? Was it their upbringing, their parents who didn't give a damn?

Coppola: I feel like they didn't have a strong family culture. So probably a combination of that and then being bombarded with those values. I try to be empathetic. You can't totally blame them, because they're young and they're being shown that this is what's valued in that society. But it's so important, the values of your family.
Perhaps, but most kids aren't reared in already-famous families.