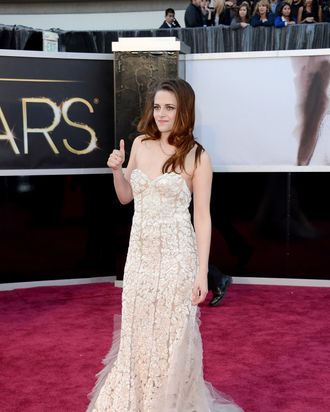 Photo: Jason Merritt/Getty Images
It's only May, but Glamour U.K. has already crowned its best-dressed celebrity of 2013, and it's … Kristen Stewart. What? Not Kate Middleton? Or even Emma Watson? What's even more mind-boggling is that this is the second year in a row K-Stew has gotten the award. Is she buying ad space in Glamour U.K.? Maybe she's the publisher's niece.
As surprised as we were at this announcement, though, no one was more surprised than the magazine's own U.S. counterpart, which gasped, "Kristen Stewart Tops Kate Middleton as the Best-Dressed Woman of 2013?!" Maybe it shouldn't be too surprising. She is planning to run away with Nicolas Ghesquière and live in sheer-shirted bliss for the rest of her days.