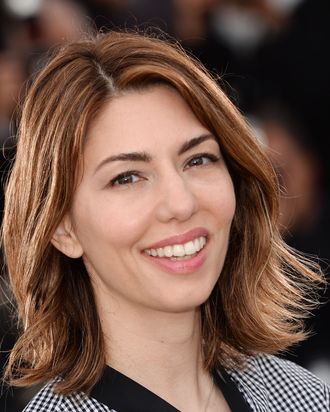 Photo: Stephane Cardinale/Corbis
Earlier today, The Bling Ring director and writer showed up at her movie's premiere looking radiant and chic with minimal makeup — she's a chapstick and mascara girl —  and a glow-y complexion. It could be thanks to good genes, but the skin-care routine prescribed by her facialist, Joanna Vargas, probably helped in the humid and warm climate.
"For weather like Cannes, you're going to want something light on the face," says Vargas, who recommends regular applications of her lightweight antioxidant and vitamin-rich Daily Serum. "It's hydrating, but the gel formula makes it penetrate the skin easily and disappear." For those stepping off a long flight, she suggests rubbing her Exfoliating Mask onto skin (it's gentle enough for the under-eye area) and letting it sit for twenty minutes before gently washing it off. The lactic acid, vitamin C, and Kaolin clay ingredients will help to slough away dead skin cells, draw out impurities, and generally give complexions a more radiant appearance.