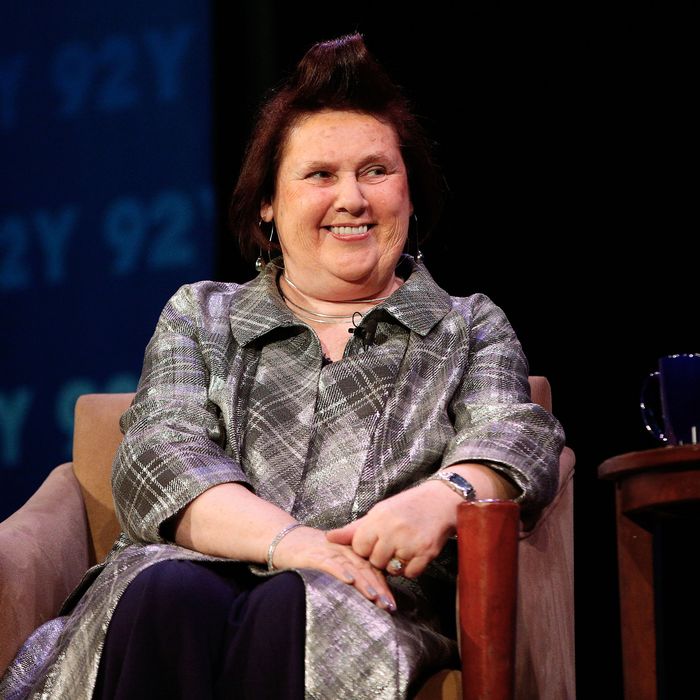 Photo: JP Yim/Getty Images
It's been a week of big reveals for Christie's London. Not only did the auction house recently announce that Elizabeth Taylor's first wedding dress will be sold next month, but it also got its paws on fashion journalist Suzy Menkes's personal wardrobe. From July 11 to July 22, the newly titled "international fashion editor of the International New York Times" will be selling more than 80 of her own carefully curated items in an online-only sale. Titled "The Suzy Menkes Collection," the auction will include pieces by Emilio Pucci, Hermès, Paul Smith, Yves Saint Laurent, Christian Lacroix, Chanel, and Ossie Clark with prices starting at roughly $300. According to Christie's, the must-have item from the sale is an Yves Saint Laurent cocktail jacket from the brand's Le Soleil collection; we've got our eye on the black Chanel clutch with her name, "SUZY," on the front in gold lettering.
"The real reason for selling was space: My clothes, locked away in storage for years, were already a memory — even though I could conjure them up in my mind's eye, from the flowered cotton dress I wore on my honeymoon in 1969 to a Biba jersey tunic from my Cambridge university days," Menkes reflected in a personal essay in Harper's Bazaar. "But going through my personal collection has not been a fashion history lesson. It has instead taught me a lot about myself. It has taught me that I am an untypical fashion editor, who has totally failed to sculpt a day-to-night wardrobe out of a block of black outfits. And that I love color! Black — who needs it? Give me juicy combinations of print, and that is just on the surface of a Lacroix handbag or on one of those silken Hermès scarves heaped on me by a wealthy boyfriend."
The online sale launches at 1 p.m. EST on July 11, so prepare your mouse-clicking skills for a chance to own outfits the pompadoured fashion editor once wore herself.