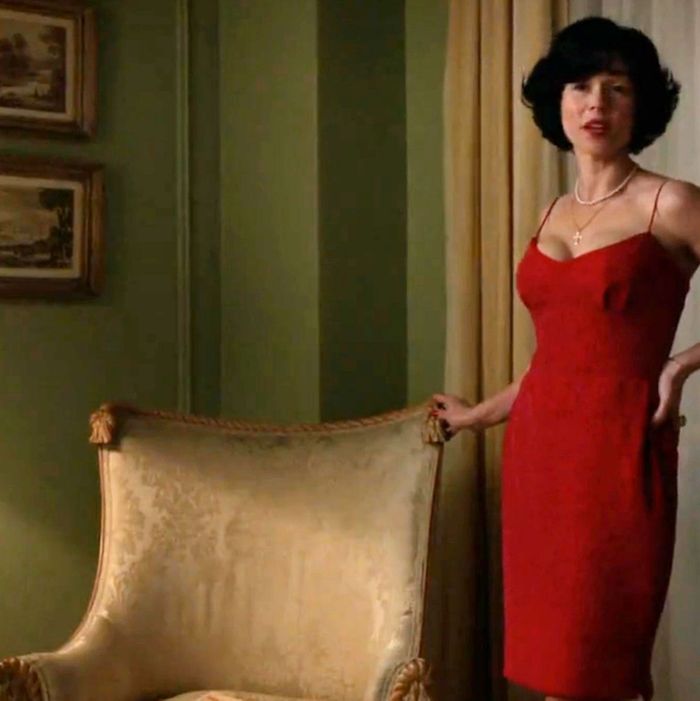 Last night, Don Draper pulled a page from Adam's playbook in Girls, demanding that his mistress, Sylvia, crawl across the floor and fetch his shoes. "You exist in this room only for me," he says, ordering her to stay put in the hotel suite he has rented for her. She hesitantly obeys his orders to undress and wait for him in bed. It's all terribly awkward. We've seen Don act brutishly towards women before, but this creepy dominant/submissive role-play is new.
Later in the day, while Sylvia's waiting naked in bed, she gets a box from Saks at the door. She unwraps it, excited and expectant. It's a sexy red dress, with a low-cut neckline and spaghetti straps. She puts it on and reads her book while she's waiting for Don. "Where are we going?" she asks when he comes in. "Nowhere," he says, and commands her to undress again.
It all winds up being too much for Sylvia, who breaks off the affair the next day. "It's time for us to go home," she says. She has changed back into the conservative floral dress she came in, and looks every bit the respectable doctor's wife. We can assume she left the red dress behind, crumpled on the hotel room floor where she let it fall off her body. It symbolizes everything about her relationship with Don: sexy, inappropriate, and never meant to see the light of day. They were never really going to "go out" together, and she knew that. Don knew it too, and he relished it — perhaps that's what eventually pushed her away.
That private red dress also hearkens back to Megan's mother's advice to her — that she dress sexier for Don. But Megan dressed sexy for him in public, earning leers from gross men like Herb Rennet, and that's not what Don wants. Even with the end of the affair, the Drapers' marriage looks increasingly doomed.