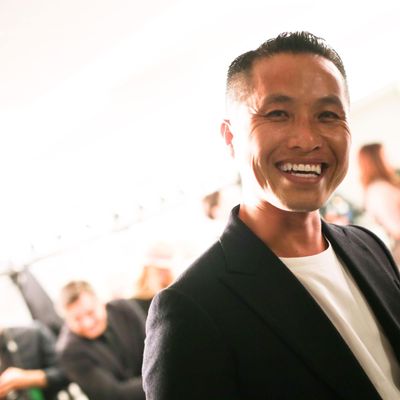 Phillip Lim.
Photo: Benjamin Lozovskynyc.com/BFA
Target's next high-fashion partner is 3.1 Phillip Lim, marking Lim's first mass-market collaboration. According to a press release from Target, the capsule collection will hit stores on September 15 and consist of more than 100 items for women and men, including coats, bags, shoes, dresses, and so forth. Prices will range from $19 to $299.99, with the most expensive items being leather jackets.
Lim, who started his New York–based label in 2005, tells The Wall Street Journal that Target's been eyeing him for years, but he wasn't ready to design for the masses yet. "The context and the scale, they're huge," he said. "For us, a little tiny brand, there's a lot more at stake working with Target." Instead, he wanted time to strengthen his own brand before slapping his name on thousands of stores across America. Now he feels established enough to make the leap. "I wanted to go in and say, 'I don't need to do this, but I would like to,'" he said. 
This collaboration also shows that Target is back to their single-designer collaboration model. Last year, they tried a new strategy with the "Shops at Target," which involved large-scale collaborations with luxury retailers like Cos Bar and the Webster instead of individual fashion labels. Over the holidays, they partnered with Neiman Marcus on a selection of gifts designed by big names like Diane Von Furstenberg and rag & bone, but thanks to misguided pricing, it was declared a flop. Earlier this spring, they rolled out a line of party dresses with celebrity stylist Kate Young, which seemed to go over better. 
Hopefully Lim's streamlined, feminine pieces will translate well into Target-friendly products, and the store will regain its ownership of the well-executed high-low collab. See a video preview of his line, below.