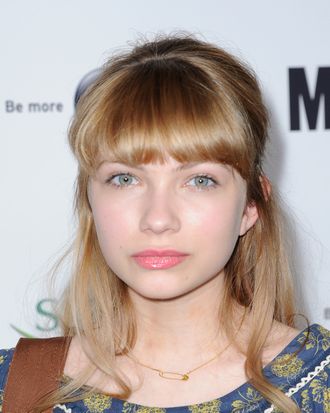 Photo: Dave Kotinsky/Getty Images
This morning, Tavi Gevinson's website Rookie tweeted a call to arms to its teen followers: "Growns who think teens tweets are dumb (#followateen) should see their fellow adults'. Today we dare to #followanadult. Join us won't you?"
She was referring to a new and ongoing Twitter game, Follow a Teen, in which media types adopt a random teenager and, without revealing his or her handle, provide periodic synopses of their teens' activity. "My teen hates school because you have to wear pants there. I love my teen. #followateen"
Rookie's counter-hashtag, #followanadult, is a clever way for teens to resist leering grown-ups. But Rookie writer Hazel Cills might have said it all when she kicked it off with, "My adult works in media and hates New York. #followanadult." There are plenty of adults who use Twitter like teenagers (and are providing excellent golf- and heartburn-related #followanadult material), but #followateen was designed to be a diversion for a specific writerly type. Suddenly called upon to use Twitter to build his personal brand and promote his work, he agonizes over every character, and he envies his free-wheeling teen.
The teens' unmediated self-absorption and the banal dramas, both symptoms of their age, give the impression one could know everything about them, like celebrities whose every meal and every remark is treated as news. In her analysis of #followateen in The New Inquiry, Helena Fitzgerald wrote, "Teenagers act like they're already famous because they don't yet know that they aren't."
But the #followanadult movement's leader, Gevinson, is hardly a textbook #followateen victim. Though technically a teenager, she actually is already famous, and she tweets like a non-famous adult. (In a good way.) Her hashtag war elides the cozy relationship between teens and adults on Rookie. Gevinson's swift and total validation by famous adults gave her an aura of precociousness that pervades the site. Its writers are young, but they're thinking about being young. They wouldn't be fun to follow for anthropological purposes, but they've attracted a cast of adults who come bearing boy advice, stories about their first periods, and hand-wringing commentary on their sex-positive personal essays. "My adult works at Rookie. #followanadult," writer Rembert Browne joked.
I often wondered how long Rookies would tolerate grown-ups chaperoning their party. Gevinson's original blog, now five years old, was proof that teens don't need growns (or college, for that matter) to do what they want to do. (Here is a magazine-quality interview of a 15-year old Elle Fanning by 17-year old Gevinson, for example.) Does #followanadult mean that the widely noted, maybe creepy adult enthusiasm for Rookie-style teen culture is finally starting to irritate the young? Are they joining up with less thoughtful teens, drawing a line once and for all between nineties revivalists and actual members of Generation X? Is this the dawn of an anti-authority Rookie in which Grown Men are the objects of their suspicion and their scrutiny, not sex-symbols-turned-avuncular-mentors? I, for one, hope so. Choosing not to care what old people think of you is the best way to steel yourself against one of adulthood's toughest blows: the discovery you're not precocious anymore.