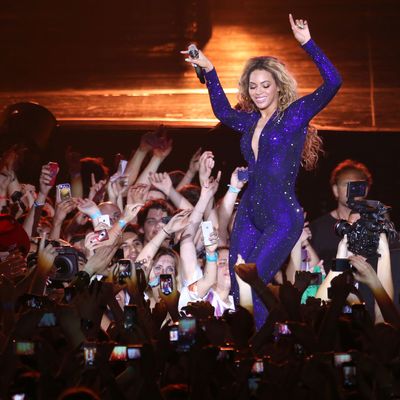 Beyonce, not pregnant.
Photo: Photopress / Splash News
In the wake of E!'s breathless announcement on Friday that Beyoncé was indeed pregnant with her second child, Jay-Z e-mailed Hot 97's Old Man Ebro — apparently they correspond regularly — and denied the rumor. Ebro read an excerpt from the e-mail on air, quoting Jay-Z as saying, "It's not true. The news is worse than blogs." (Which doesn't totally make sense, but no matter.) Meanwhile, Beyoncé asserted her non-pregnancy in her very own way: by finally deigning to invite photographers into her latest concert in Milan, where she looked decidedly svelte in a skin-tight catsuit. It's basically the inverse of her tummy-revealing moment at the MTV VMAs. Oh well. At least we'll always have the name generator.