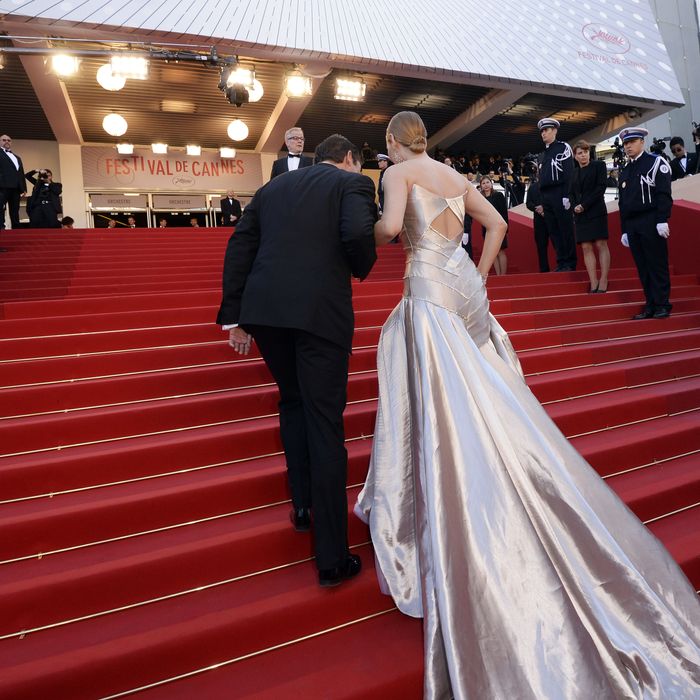 Photo: ANNE-CHRISTINE POUJOULAT/AFP/Getty Images
The 2013 Cannes Film Festival officially ended on Sunday night, giving us Memorial Day to mull over the extraordinary events of the past two weeks. Now that our eyes have healed from the glare of a zillion sequins (and our souls have recovered from the sheer delight of seeing a dress made of biscuit tins), we've summed up the most important topics from this year's festivities. Without further ado:
1. Roberto Cavalli ruled, as always. Cannes is basically an excuse to dress like a Vegas showgirl without going to Nevada, and that's why it's Roberto Cavalli's sweet spot. Nowhere else on earth is it more acceptable to wear sequins, animal print, feathers, and denim — all at the same time. Cavalli also throws a mean yacht party, and yacht parties are where it's at in Cannes. This is a man who unites Paris Hilton and Princess Charlize of Monaco. He is the great equalizer of all things glittery and low-cut. He is the king of Cannes.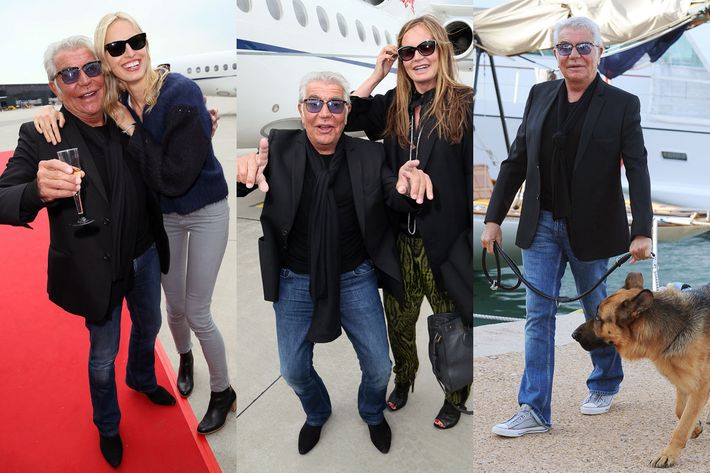 2. This was the year of the makeout. Blame the sexy Mediterranean breezes, or the Champagne, or the chance to get extra attention from photographers.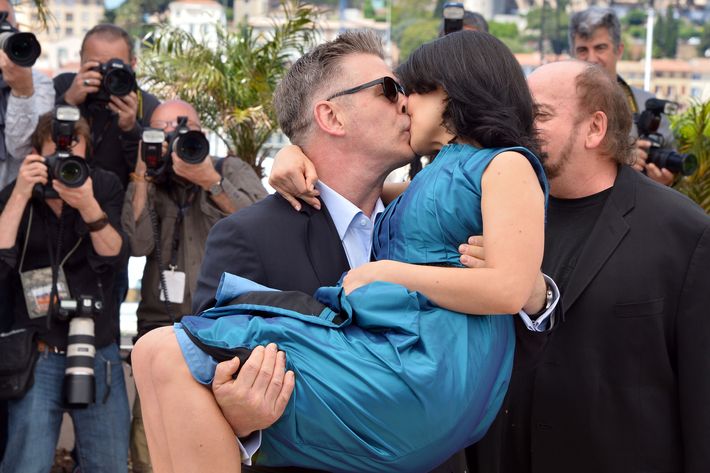 3. You couldn't move without tripping over a model (or her train). They were everywhere: Joan Smalls, Alessandra Ambrosio, Toni Garrn, Petra Nemcova, Barbara Palvin, Chanel Iman, Erin Heatherton, Jessica Hart, Karlie Kloss, and Heidi Klum. You basically could've renamed the festival Best of the Victoria's Secret Runway: Slinky Red Carpet Dresses Edition.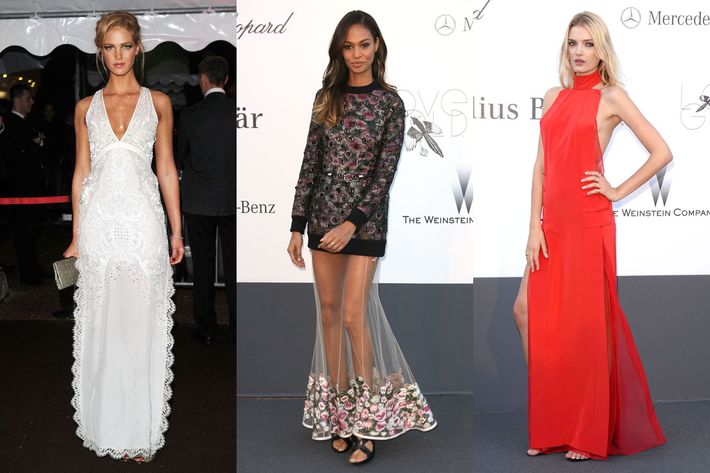 4. Nicole Kidman did a nice job of filling Diane Kruger's shoes as Most Fashionable Juror. She also managed not to overshadow the stars of the movies she was judging, which was gracious of her.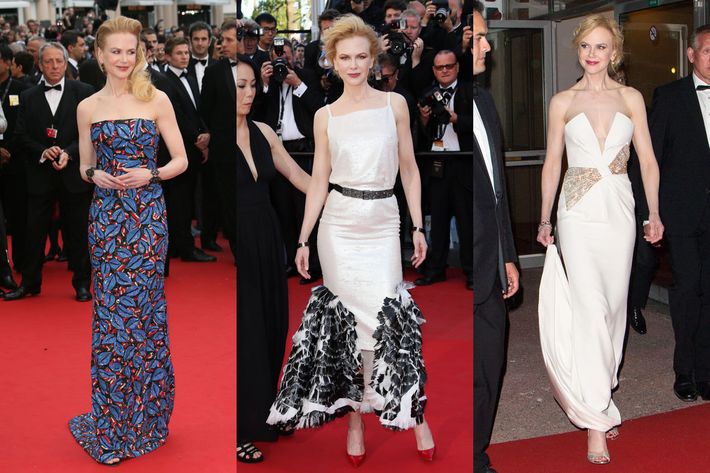 5. Not just one, but TWO jewel heists took place within days of the Bling Ring premiere. One involved a safe being ripped out of a wall. Life imitates art, etc., but let's get a movie version of this done in time for next year, okay?
6. Someone's feet made headlines for the first time in Cannes history. Julianne Moore's escaping toes caused so much fuss that she went on Late Night With Jimmy Fallon a few days later to explain what she called "toe-maggeddon" and "toe-gate." Should we feel good about the world being more interested in shoe malfunctions than stars caught without panties? Definitely.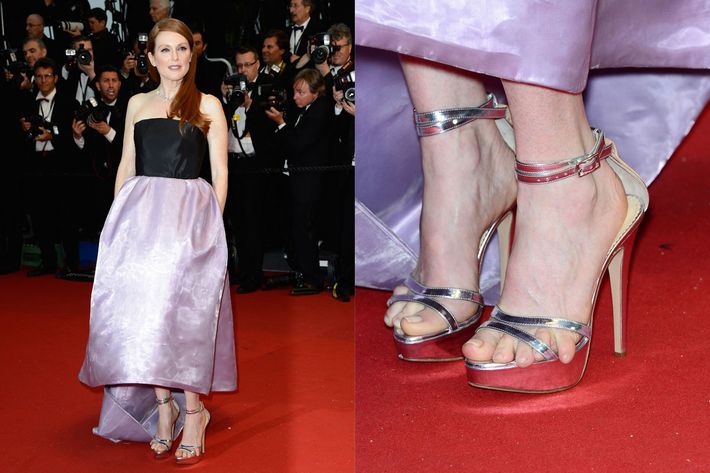 7. Milla Jovovich and Rosario Dawson were everywhere. And it was great! In a sea of Cannes red-carpet regulars like Eva Longoria and Ulyana Sergeenko, it was nice to see some new-but-still-familiar faces this year.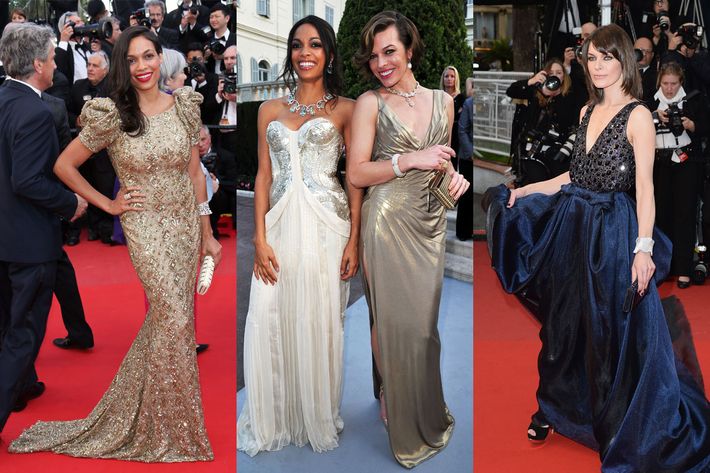 8. Sharon Stone wore slimy creatures on the red carpet. Apparently she's not into straddling giant lipstick tubes in the nude anymore, but she does get the prize for coolest accessories: Her amfAR gala outfit included a metallic snake crawling between her shoulder blades and a jeweled starfish wrapped around her wrist.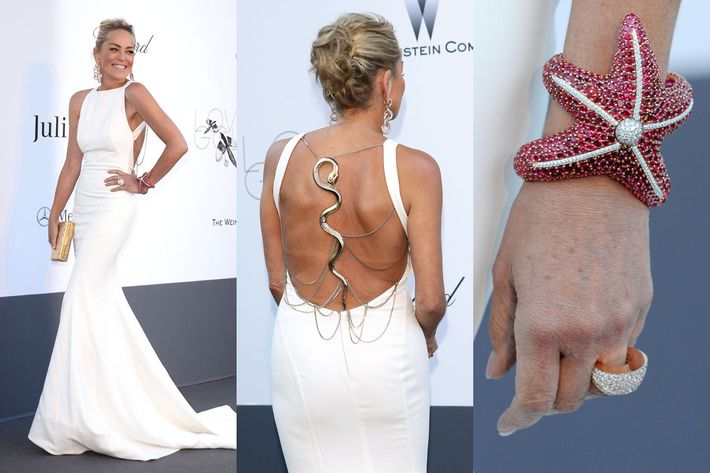 9. Jessica Chastain's brilliant purple Spanx. Yet another reason why panty-lessness should never happen.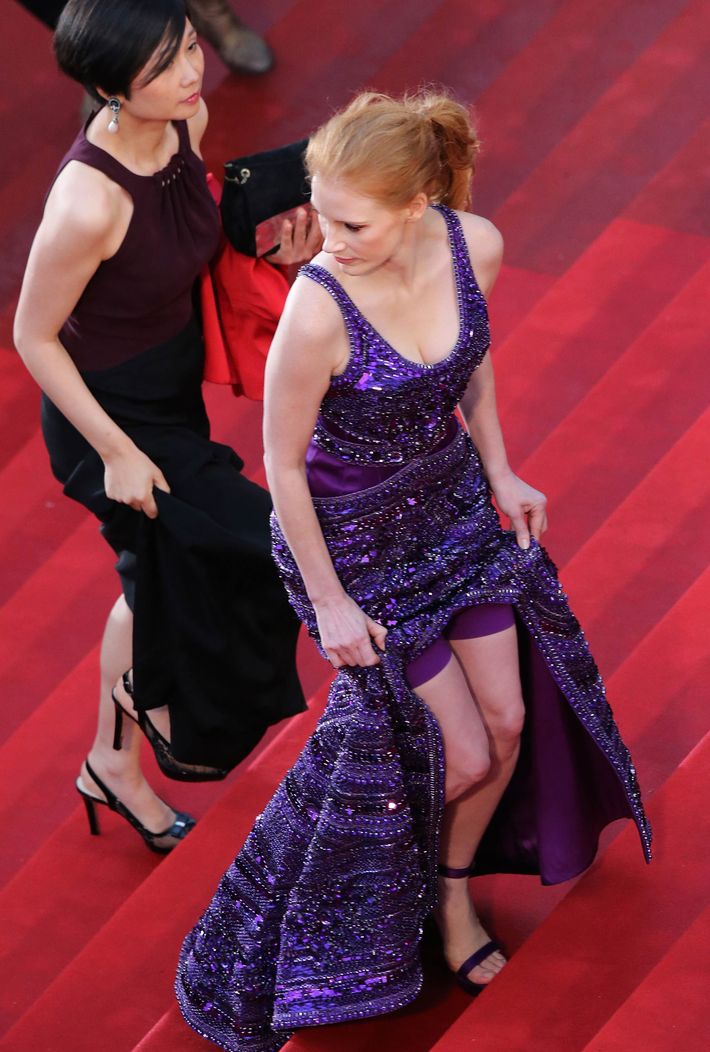 10. Psy had an impersonator on the loose. Why doesn't this happen with celebrities — besides Karl Lagerfeld — more often?
11. Asia Argento's well-documented middle finger. Not sure what prompted her go from waving coquettishly to flipping the bird to smiling again, but there's lots of photo evidence.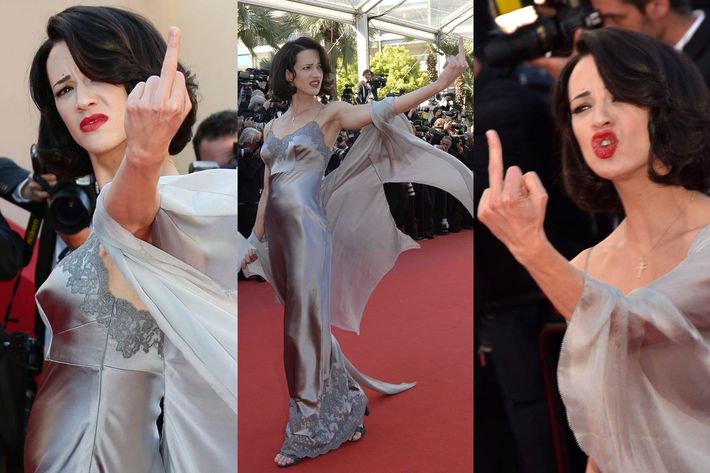 12. When people weren't wearing Roberto Cavalli, they wore Christian Dior. This may have had something to do with the proximity of Dior's resort show, which was held in Monaco during the festival and garnered lots of Cannes-related publicity. Or maybe those strapless dresses were more comfortable in the humidity. Or perhaps celebrities just knew Raf Simons would make them look gorgeous! Anyway, he was a popular man.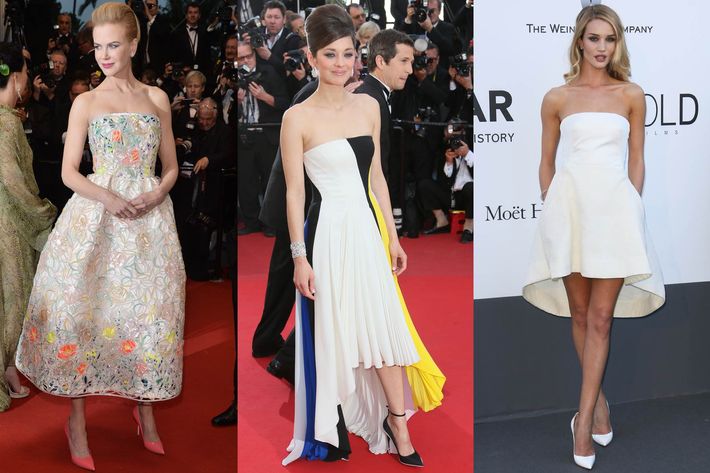 13. Mistress of ceremonies Audrey Tautou looked adorable, nonstop. We could watch her on red carpets all day.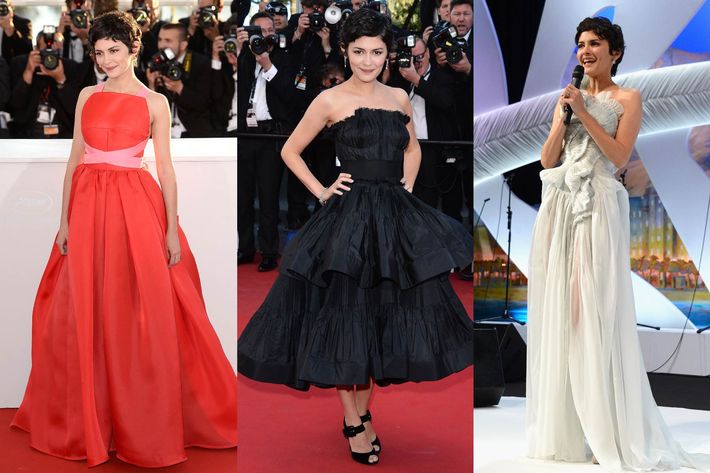 14. Speaking of adorable-ness, THIS DOG. Au revoir, Pudsey. Hope to see you next year.