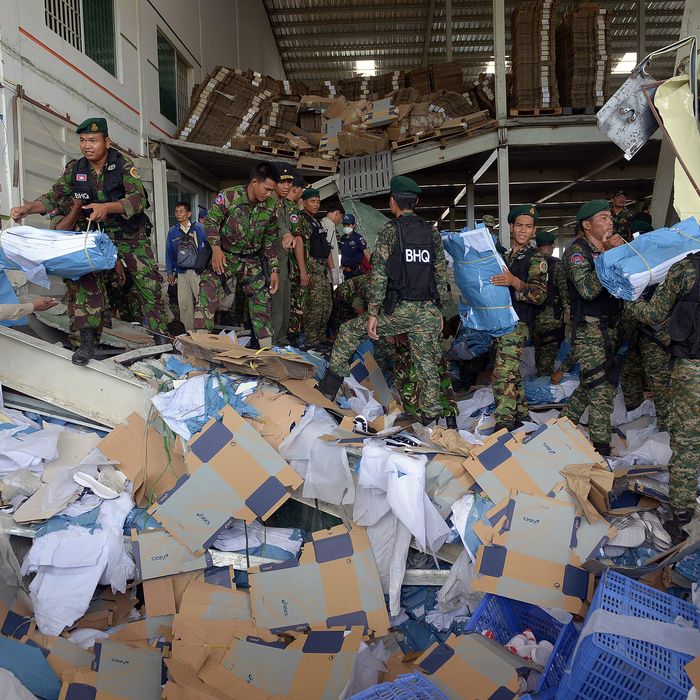 Photo: Tang Chhin Sothy/AFP/Getty Images
As American garment companies balk on joining an international agreement to prevent more tragedies in Bangladesh, where over a thousand people died in last month's building collapse and yet more in recent fires, today three workers lost their lives when a factory crumbled in Cambodia. Japanese shoe company Asics has already confirmed that the factory was under contract with them, according to WWD:
"We have confirmed that two people have died, and others will be grieving, so for now, we would like to offer our condolences," the Asics spokeswoman said, adding that it was possible the factory was also producing shoes for other brands.
The third fatality occurred later in the hospital, and eleven are injured. The building is supposedly operated by Wing Stars Shoe Co. Ltd, a Taiwanese company that has yet to admit their involvement. 
Well, this is a mess. Companies can't even figure out how to handle the awful situation in Bangladesh, let alone whole other countries. Unsafe factories are turning into the BP oil spill of the garment industry: Everyone knows it's terrible, and yet they can't seem to fix it. Hopefully they'll offer compensation to the families in the meantime, and be shamed into finding a solution soon.