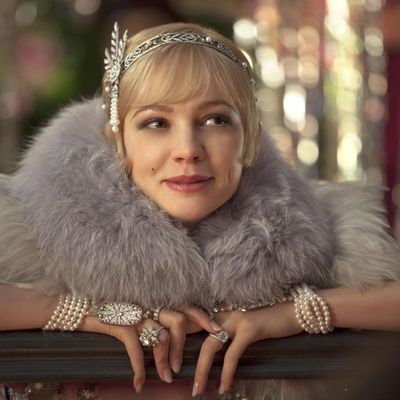 Photo: Matt Hart/Warner Bros. Pictures
According to Carey Mulligan's chat with Vogue U.K., her time playing the wide-eyed Daisy Buchanan dripping in Tiffany & Co. jewels (while frolicking around town with Leo) was not nearly as carefree as the film's bass-heavy soundtrack seems to suggest. Because Mulligan was walking around set covered in specially made diamond baubles, headpieces, rings, and more created for her character, not herself, Tiffany's sent over a guard to keep a watchful eye on the actress.
"I would be doing a scene, wearing these fabulous jewels from Tiffany's worth many, many millions … And I could see this guy in the corner watching me intently, in case I ran off with anything," she said. "There was a lot of emphasis on appearance. Not from Baz, but from my own reading of the novel. She has to be an object of desire. She's the golden girl — the 'king's daughter.'" Which maybe explains why Mulligan compared Daisy to a Kardashian.