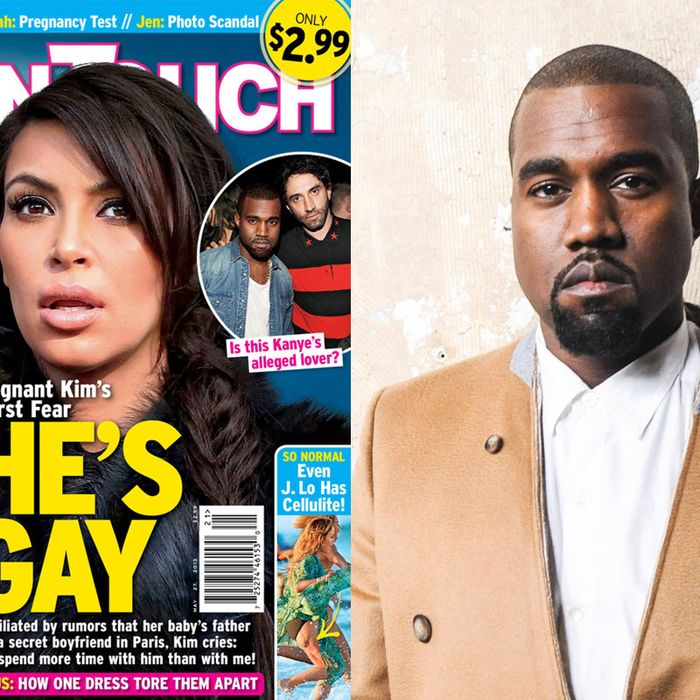 In Touch belongs to the lowest tier of tabloids, but it has reach. Its media kit claims an audience of 7.2 million, which means a population close to that of the state of Virginia will read ludicrous rumors about Kanye West having an affair with "dashing, openly gay" Givenchy designer Riccardo Tisci this week. Are we really so incapable of processing a straight man who likes fashion and has gay friends? This cover story is disgusting—not because homosexuality or Tisci are disgusting, obviously, but because homophobia thrives on the notion that straight people should recoil from gays. In Touch is exploiting that.
On the cover and inside the magazine, the layout invites the eye to read HE'S GAY and KANYE IS GAY before noticing the fig-leaf floating above the claims: "Kim's Worst Fear."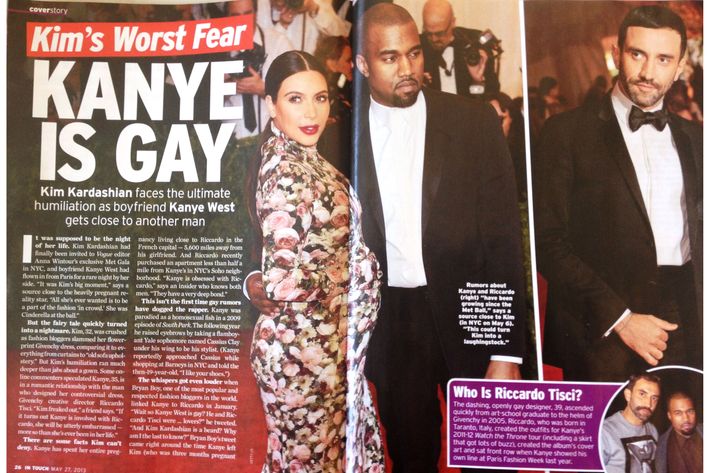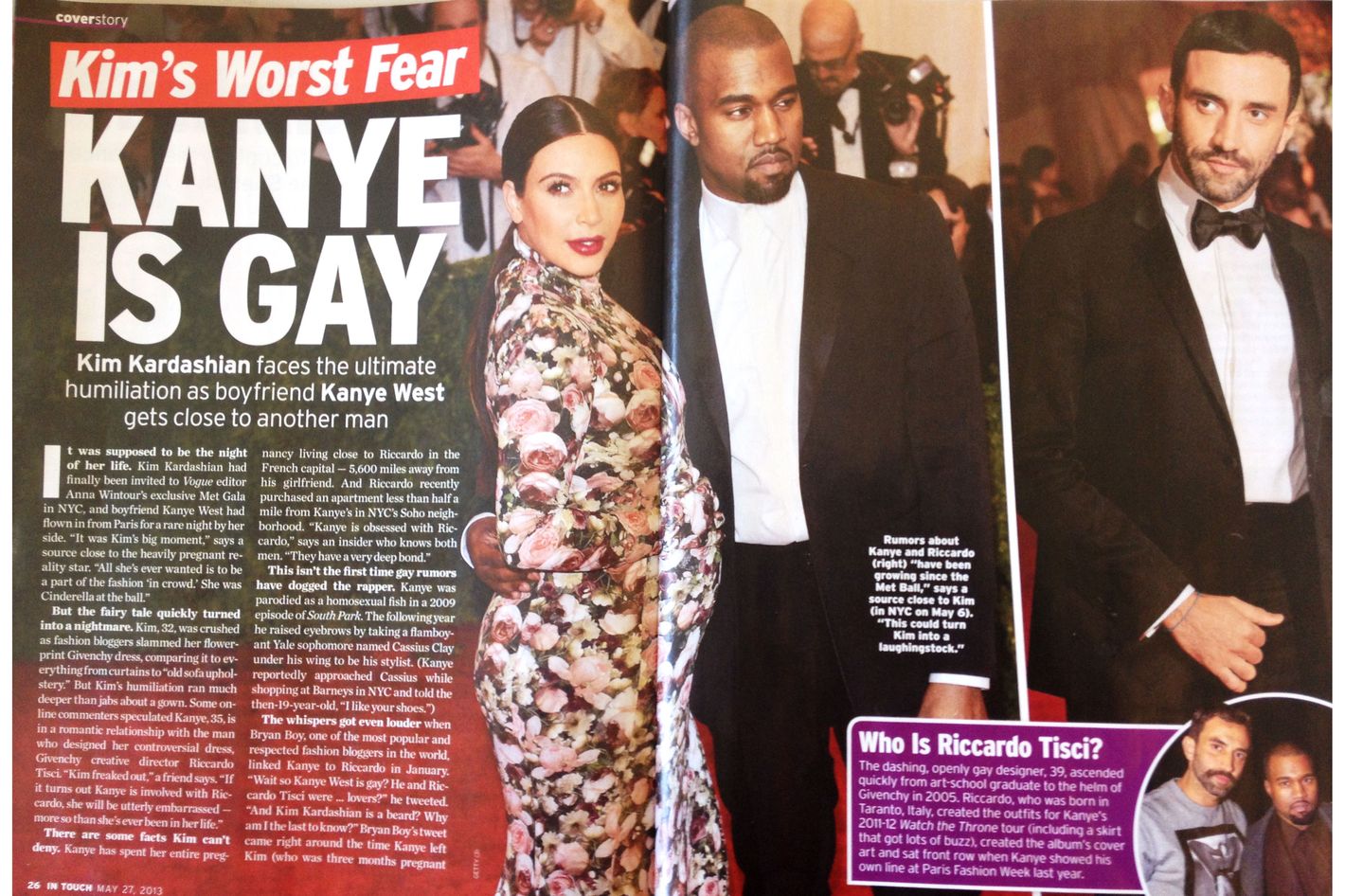 The article cites "a friend" who claims Kim "freaked out" when she read "online commenters" who "speculated" that Kanye was involved with the designer of her Met Gala glove-sleeve gown. Other than the one "friend," every source in this article is an "online commenter," almost all of them unnamed. In other words, In Touch just became the first magazine to give its biggest cover line to the wisdom of unknown strangers who could be joking, high, malicious, ironic, fictitious, or not even sure what "HE'S GAY" means.
When it cites specific sources, the facts are irrelevant to the point of absurdity. From In Touch's print edition:
There are some facts Kim can't deny. Kanye has spent her entire pregnancy living close to Riccardo in the French capital—5600 miles away from his girlfriend. […] This isn't the first time gay rumors have dogged the rapper. Kanye was parodied as a homosexual fish in a 2009 episode of South Park. The following year he raised eyebrows by taking a flamboyant Yale sophomore named Cassius Clay under his wing to be his stylist. (Kanye reportedly approached Cassius while shopping at Barneys in NYC and told the then-19-year-old, "I like your shoes.")

The whispers got even louder when Bryan Boy, one of the most popular and respected fashion bloggers in the world, linked Kanye to Riccardo in January. "Wait so Kanye West is gay? He and Riccardo Tisci were… lovers?" he tweeted. "And Kim Kardashian is a beard? Why am I the last to know?"
Other Bryan Boy tweets In Touch should consider for cover stories: "Cute!!!!!!!," "!!!," "I need to make 3 million dollars so I can buy a mini apartment," "What does somerhalder look like."
After the Met Gala, the flower-dress controversy took on new meaning for Kim—and for conspiracy minded observers. "Out of jealousy [over Kanye] I think Riccardo dressed Kim in this outfit to make her look ridiculous," wrote one. Riccardo refuted the accusations, calling Kim "the most beautiful pregnant woman I dressed in my career." But Kim, says her friend, was left wondering: "Maybe he resents her and really did want to make her look hideous."
I will admit that I wondered whether that dress was, somehow, a setup. It was such a clever undermine. Given how strenuously Tisci defended Kim, however, I'm more inclined to conspiracy theories involving Anna Wintour pushing Kim in the wrong direction during the fabled Kardashian-Wintour dinner summit.
Kanye West has sex with women. He had sex with a woman on video, then took extensive legal action to block the video's release and fought publicity about the legal action, too. Speaking of legal action, the editor of Star once noted, "People sue over being called gay, not over impregnating someone or sleeping with someone straight. That's why Jennifer Aniston is pregnant all the time." Of course, the strenuousness of those lawsuits is likely tied to the same fear that In Touch is taking advantage of: the fear that even the faintest whiff of a gay association could alter every assumption one has ever had about a straight man's sex life. And if that straight man is one known to act even slightly out of sex and gender norms (say, wearing a skirt, even if he later regrets it), it feeds not just the rumor mill but the homophobes. Remember, last time Kanye West's fashion taste drew high-profile accusations about his sexuality, it was from an open homophobe who called Kanye "half a fag" for wearing "skinny jeans" and "a fucking skirt."