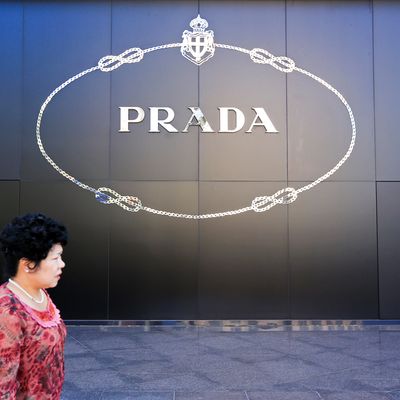 Photo: Bloomberg/Getty Images
The U.N. has called on Japan to outlaw sexual harassment and discrimination in the workplace, siding with the plight of former Prada employee Rina Bovrisse, who sued the label four years ago upon discovering that its Japan executive, David Sesia, had ordered the demotion or transfer of female employees he deemed "old, fat, ugly, disgusting, or did not have the Prada look." Although a Tokyo court ruled that Prada's behavior was indeed discriminatory, they decided that such treatment was "acceptable" in the fashion industry, and Bovrisse walked away empty-handed. She was then countersued by Prada for $780,000 for damaging its image, which led her appeal to the U.N. Office of the High Commissioner for Human Rights for help. BuzzFeed Fashion describes her testimony:
Calling herself a "victim of harassment by the Prada Group," Bovrisse described how, after she complained about the harassment to Prada COO Sebastian Suhl and the human resources office in Milan, she was let go for "bringing negative energy to the company" and accused of being mentally ill. She said the brand provided a resignation letter for her to sign and noted that Prada Japan CEO David Sesia is quoted in court documents as saying, "One must watch pornographic films in order to understand how women think."
Hopefully the U.N.'s ruling will pressure Japan into passing more stringent anti-discrimination laws, or at least help Bovrisse fight Prada's countersuit. To learn more and/or participate in Bovrisse's case, check out her Change.org petition.