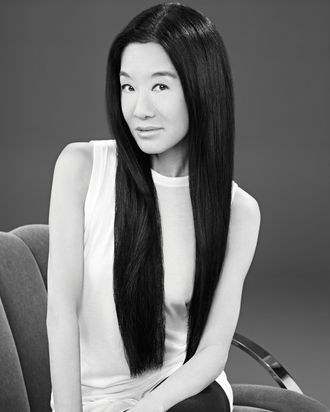 Last month, the fashion designer sent models accessorized with black leather opera gloves down the runway for her fall bridal collection ("all about sculpture and architecture," she says now) and also launched a new addition to her growing family of perfumes, Bejeweled. The blend of pomegranate, Champagne, floral, and passionfruit notes were chosen for their vibrant, effervescent scent. "It's meant to be something that girls use when they're getting ready to go out," Wang explains. "When I'm really exhausted and I have to go to a dinner straight from the office, I just put a touch of fragrance on, and it makes me feel more ready for the night." Recently, she caught up with the Cut to discuss her latest projects, red dresses as a "new neutral," and what traditions the modern bride should give the boot.
What advice would you give to the "modern" bride, someone who might not wear a princess dress?
There are other alternatives to what was once considered traditional. By that, I mean very covered, very large skirt, very high waist, stuff dripping off your head, a very fancy headpiece. I think that while that can be incredibly charming, and we could cite forever Grace Kelly and the Duchess of Cambridge, there are so many other alternatives today. What I've always tried to do in fashion is not to dictate to women, but to offer them alternatives.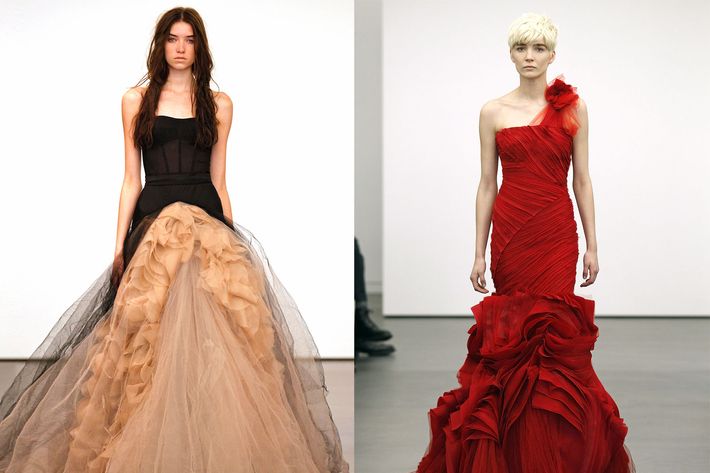 Hence your bridal collections that have offered various color options outside of traditional white?
I like to do bridal with a fashion edge, and I don't want to be fenced in by the conventional bridal show of white dresses, or the occasional blush or blue. Years ago, I did a collection once that was completely dipped in tea. Black was probably two years ago. I was really riffing on lingerie when I did the black and nude. It was the idea of witches, too. Red was a thing were I thought, looking for a new neutral, red was the new neutral, after black and white. Red, to me, and culturally in many places in Asia, represents good luck. So I just thought it was a very upbeat and wonderful way to approach a wedding.
Any other elements to consider for picking the right dress?
Location is another thing I've focused on with the bride. I fitted Chelsea Clinton in upper New York state and dressed Alicia Keys for the south of France. But that's two very disparate girls, in two very disparate weddings, and very disparate personalities. That kind of sells what I'm speaking about: Alicia was barefoot and pregnant in her dress. Chelsea is the daughter of a former president, and they required different personal statements and, in a strange way, different artistic statements. Then of course temperature, location, time of day. The specificity of weddings is unique as well, not only the bride.
What do you think of the "trash the dress" trend?
Gosh, I know nothing of it. I did do one Kennedy wedding, Max and Victoria Kennedy, where true to Kennedy form they were playing football one minute out of the church. The dress that we had worked on for over six months had grass stains all over the hem. I had never heard of people trashing their wedding dresses, except that when you get married and if you intend to dance the night away, you will see what your hem looks like by the end of evening. If that's trashing, I guess they do get trashed, but clothes get trashed just going down a runway. No, I haven't heard about that trend actually. Except that thank God I'm not a dry cleaner, because many women do want their dresses stored and packed from a sentiment point of view, and a night of partying can do a lot of harm to a dress.
So then you definitely have seen an uptick in brides looking for a party or reception dress?
Definitely! I just finished Michelle Kwan's wedding and she had a mini party dress after a very serious, elegant, traditional handmade lace dress. Chelsea did, too. Most brides, a lot of them, are now opting for two. I myself did long ago. I changed into a slip dress.
As far as beauty goes, what traditions do you wish brides would avoid?
Don't disguise yourself. You don't want your husband to not recognize you. If you don't wear blue eyeshadow every day, now's not the time to try. If you don't run around with a tan 365 days a year, maybe you shouldn't come in with one. I had a bride who went down to Miami every weekend before her wedding, a famous bride who I can't name, and I said, now you've got strap marks, and God only knows what else. I think you should be as close to yourself as possible, but the best self you can present.