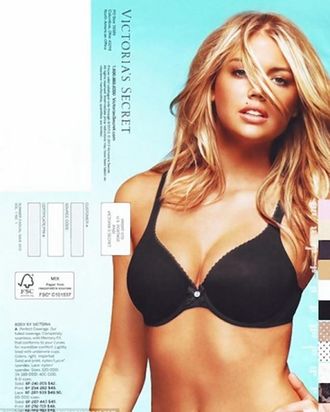 When Kate Upton's first Sports Illustrated cover propelled her to international stardom in February 2012, her modeling portfolio contained only a few labels: namely, Beach Bunny Swimwear and the Victoria's Secret catalogue, where she appeared in early 2011. But casting agent Sophia Neophitou, who handles the books for the Victoria's Secret fashion show, was quick to distance the underwear brand from Upton. In a now-infamous Times interview in 2012, she sniffed that Upton's look was "too obvious" for the label's fashion show, adding that they "would never use" her:
"She's like a Page 3 girl," Ms. Neophitou said, referring to the scantily clad voluptuous women featured in The Sun, a London tabloid. "She's like a footballer's wife, with the too-blond hair and that kind of face that anyone with enough money can go out and buy."
How times have changed! Fourteen months and one major Vogue cover later, Victoria's Secret — who hasn't featured Upton in any of their promotional materials since Neophitou's comments — put her on the back of their latest catalogue. Update: A source close to Victoria's Secret has confirmed that this is a reused image from her 2011 photo shoot.
Anyway, is this meant to be an olive branch toward Upton, who has now proven her ability to sell magazines and drive web traffic like nobody's business? Perhaps Victoria's Secret finally realized that they should have had Upton in their backyard this whole time. After all, they're the brand that prides themselves on using "healthier" models with "personalities" (translation: women with David Kirsch–toned quads who are willing to appear in goofy videos) instead of the waifish girls found on high-fashion runways. They probably never expected Vogue to start beating them at their own game. This may very well signal a change of heart on Neophitou's part, and the beginning of Upton's Victoria's Secret comeback.