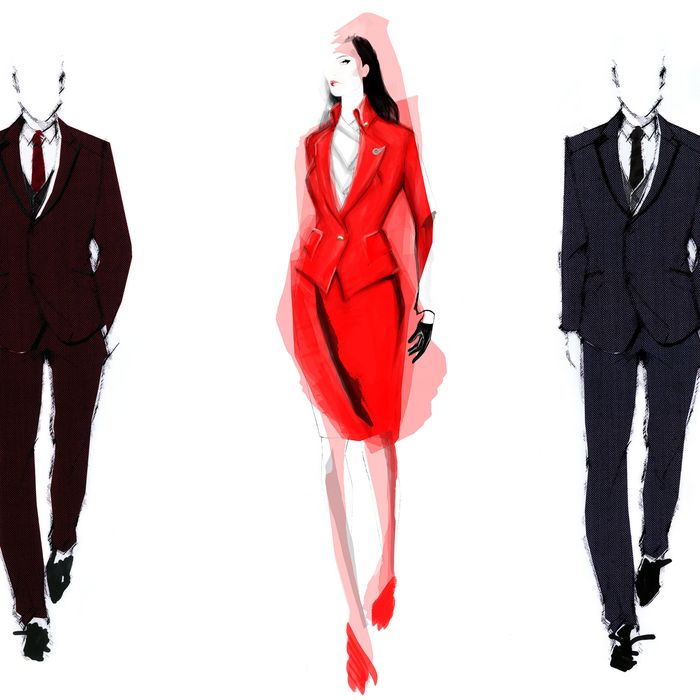 Photo: Vivienne Westwood Design
Virgin Atlantic announced this morning that everyone's favorite fiery-haired fiery-mouthed British punk fashion designer, Dame Vivienne Westwood, has stepped aboard the Branson enterprise. Westwood partnered up with Sir Richard Branson to redesign the airline's uniforms, which hadn't been refurbished in over a decade (and, according to Branson, had started to get copied by other airlines).
Starting in 2014, the new Westwood x Virgin Atlantic collaboration will outfit the airline's 7,500 cabin, crew, pilots, Clubhouse staff, and Virgin Holiday employees. According to Virgin Atlantic, the new uniforms will be "futuristic" and made out of "eco fabrics" — specifically, recycled polyester yarn from used plastic bottles. The women's uniforms will have "an hourglass silhouette," and the men's uniforms will be tailored three-piece suits made of rich burgundy wool. If all goes well, Westwood might even have the first crack at designing space suits for the Virgin Galactic crew. No word yet on how hourglass silhouettes work in zero-gravity.