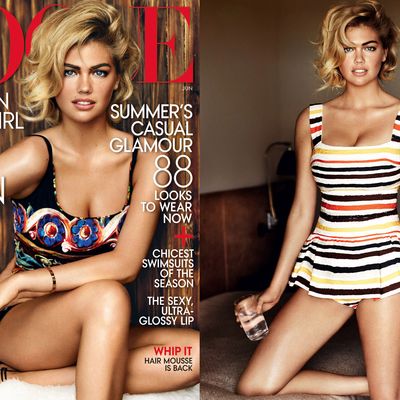 Kate Upton for Vogue.
Photo: Vogue
Rumors of a June Vogue cover have dogged Kate Upton for months, and until now she's just laughed them off. But lo, they were true! And just to give you an idea of how major this is, the last time Vogue put a model on the cover was September 2011, when Kate Moss gave the magazine an exclusive on her insanely glamorous wedding. Before that it was probably Gisele. Even Karlie Kloss, a Vogue darling and by far the industry's biggest name in the past half-decade, has been consistently passed over in favor of celebrities.
And despite her relatively short career limited mostly to swimsuit modeling, here is Upton on what is arguably the most exclusive magazine cover in the world. As she told us in September, she never even planned to have a career in high fashion and has almost no runway experience aside from the Beach Bunny Swimwear show in Miami. Even Vogue admits — and dedicates a whole paragraph to — her bosom's role in her fame: "Descriptions of her figure tend to involve euphemisms for a single word: breasts."
But the overarching theme of Vogue's profile is clear: We are to understand that Kate Upton is not fat. (As if this were really a concern?) The story opens with a description of Upton in the middle of a punishing workout with her trainer, David Kirsch, who then sings her body's praises. Upton's sister is quoted as saying that she was "stick thin and flat for the longest time" before hitting puberty at 15. When Vogue's writer meets Upton at Nobu, the model doesn't even look at the menu and asks the water for "new-style salmon and three black-cod lettuce wraps." She then explains that she has to be vigilant with her diet:
When it comes to meals, "I'm not, like, a robot," Upton says. "I have different rules at different times." Following Kirsch's advice to eat "anything that flies or swims," she sticks to chicken or fish, plus veggies. Which means that famous commercial of her sensually devouring a Carl's Jr. cheeseburger? "No," she says, shaking her head. "I can't do that."
While it's refreshing to see a model who admits she works hard for her figure and doesn't just chalk it up to good genes, why does Vogue need to justify her voluptuousness with tales of her grueling workouts and strict eating habits? Are we supposed to be more respectful of her body because it's the result of careful discipline? Would Vogue have put her on their cover if she ate burgers and didn't exercise but looked the same? The "Kate Upton is not fat" crusade continues thus:
This year's Sports Illustrated cover—a shot of her in Antarctica, parka open to reveal a stunning breadth of cleavage—set off a fresh round of "Is she fat?" conversations across the Internet. "It was hard at first," [Upton] admits of hearing such rumblings. "You sit there and you're like 'Is something wrong with me?' " But she's learned to ignore her critics—and come to regard her healthy body as a point of pride. "The things that they're rejecting are things that I can't change. I can't change my bra size. They're natural! I can work out and I can stay healthy and motivated, but I can't change some things. I really just live my life. I love my body. It's what God gave me! I feel confident with myself, and if that inspires other women to feel confident with their bodies, great."
And it is great. Make no mistake, the inclusion of Upton in fashion magazines is a positive thing, as it's a welcome departure from stick-thin pubescent models. But does Vogue really need to try so hard to remind us of that? Maybe, instead of making Upton such a newsworthy exception to the rule, the magazine should believe its own hype and celebrate women of her shape more regularly.