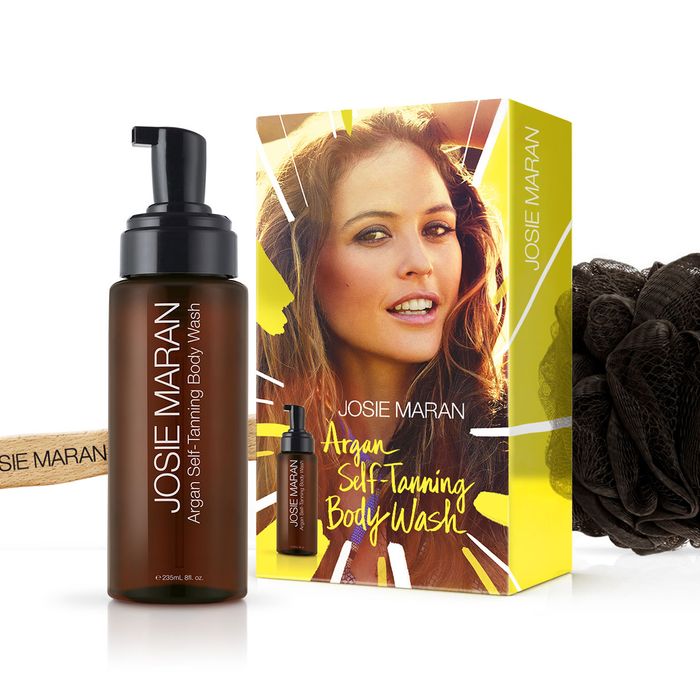 Before the weekend, we announced the launch of Josie Maran Argan Self-Tanning Body Wash. We couldn't tell you the IRL results because we hadn't received the actual stuff yet, but the package arrived just as Friday's workday was ending. Here is a list of things to expect if you have purchased (but haven't used) or plan on purchasing your very own bottle.
1. Do not be alarmed. The "body wash" is very dark. In fact, the foam will make you think you've just pumped out the most airy, lightweight dollop of dark-chocolate brownie mix onto your sponge. It also smells sweetly of vanilla and coconut, which might actually convince you this is dessert.
2. Do follow the directions and use the provided loofah. My press sample did not include said wooden-handled loofah, so I used my own and held the sponge in my hand. Your palm will immediately turn a frightening shade of shoe-polish black.
3. Do use the pair of rubber gloves included in the kit. As creepy and American Pyscho–y as it feels to pull on a set of gloves while in the shower, it would've saved me the twenty extra minutes I had to spend basically scratching the self-tanning agent off my hands. Post-shower, my cuticles looked like they were caked in soil.
4. Do accept that you might have streaky drips of tanner. Because you are applying the product to your body in a wet, steamy environment, the likelihood of the formula dripping down your body will mean that in certain spots you'll end up with dark, runny streaks. The directions do advise to apply the stuff in swift, circular motions … maybe I wasn't speedy enough?
5. Do keep a container of Clorox Disinfecting Wipes nearby. After you've rinsed off the body wash and stepped out of the tub, you will see that some parts of the shower are now left with streaky remnants of the tanning formula. Because I wasn't sure of the product's tub-staining abilities, I grabbed the first thing from under my bathroom sink (in this case, Clorox wipes) and went at it. A few minutes later, there were no leftover stains. My bathroom no longer looked like a Kardashian had melted inside.
If you follow the exact directions and heed my warnings, then you should have a nice, subtly bronzy, streak-free glow, which 95 percent of my body possesses. When I figure out how to keep the product from dripping during its 30-second "setting" time, I'll let you know.