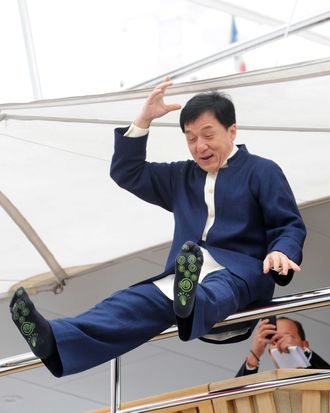 Jackie Chan's socks.
Photo: Stuart C. Wilson/Getty Images
Here is Jackie Chan in Cannes today. As we are reminded from yacht party photos every year, shoes are not permitted on boat decks. Usually this means guests go barefoot, but in Chan's case, he kept his socks on, and with very good reason: They had little grips on the bottoms! This is particularly brilliant because it's been rather chilly in Cannes so far, with temperatures in the not-so-balmy sixties — hardly comfortable barefoot weather. In any case, the Cannes Film Festival is far enough from reality that it's cool to try just about anything — like Canadian tuxedos or chocolate-colored makeup, for instance.
We're calling it now: "Yacht socks" could really become a thing. Or at the very least, they're a good way to avoid the problem of errant pinky toes: