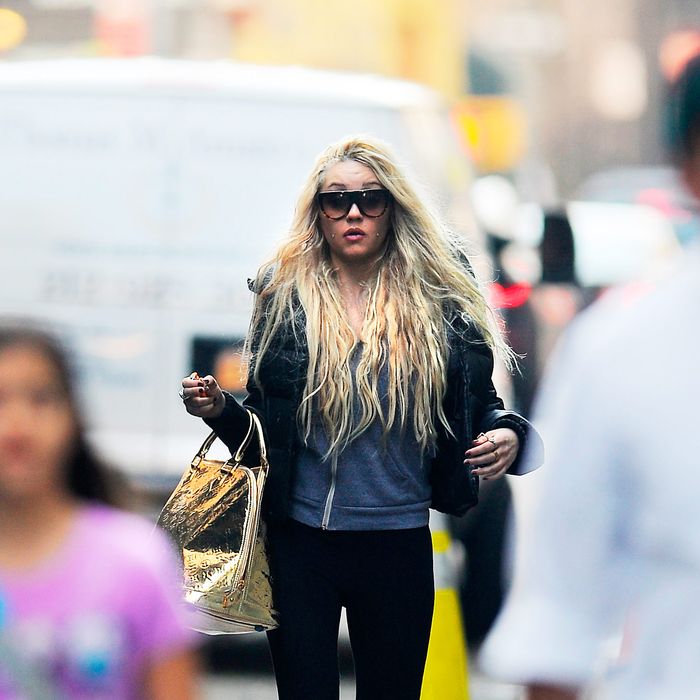 Photo: Josiah Kamau/BuzzFoto
At the core of recent public fascination with the travails of Amanda Bynes is uncertainty. Is her last year of erratic behavior a young-adult rebellion? Mental illness? Evidence of drug use? Performance art? Bynes's Hairspray co-star Nikki Blonsky recently claimed that Amanda is having "not a breakdown, but a breakthrough," underlining the paradox at the center of the modern American young adult experience: The rumspringa we expect, roughly, between the ages of 18 and 25, bears enough similarity to a manic episode or deranged art project that sometimes we cannot tell which one is happening.
When the breakdown/breakthrough plays out in public, we also face confusion over what, if anything, we should do about it. Look away? What if we can't?
Last night, after Bynes tweeted two topless pictures, Jenny McCarthy tweeted, "Police are at @amandabynes house. I hope they get her help. Enough of this circus. She needs help."
As "proof" McCarthy provided tweets from "celebrity publicist" Jonathan Jaxson announcing, "I just spoke to @AmandaBynes and she is soooo messed up on drugs and please @NY_POLICE find her and help her." He also tweeted, "I don't know her address! @TMZ." If Jaxson's name is familiar, it may be because Kim Kardashian recently sued him for "falsely stating he was Kim's publicist." In 2007 he made waves with a claim that he hooked up with married actor Cuba Gooding, Jr.
McCarthy and Jaxson later deleted their tweets about police intervening on Bynes.
The latest chaos comes shortly after In Touch interviewed Bynes about her mental and chemical states. From In Touch's print edition:
IT: What's the worst thing you've read about yourself lately?
AB: That I'm mentally insane.

IT: Why do you think people are saying that?
AB: I have no clue. Every time I've heard it, it came from an ugly person's mouth, so I don't care.

IT: Do you think you have any issues with addiction?
AB: I don't drink. I'm allergic to alcohol.

IT: There are photos of you with what looks like a joint.
AB: I don't smoke pot. I smoke tobacco.
Unfortunately sanity and sobriety are hard to prove, in part because the insane and drunk have been known to claim the same. "Records of the human condition are often kept by its least reliable narrators," Sarah Nicole Prickett writes in a recent New Inquiry review of bipolar female memoirs. When 27-year-old Prickett describes her own diagnosis, she moves seamlessly from the language of young-adult disaffection to a description of illness: "Always there were moods you had that others did not, moods that were your organizing principle. Now they become your undoing. You weren't wrong to think nobody else was like you. Not many people are. Almost nobody would want to be, and that's where — in your wilding moments — you were wrong. I was."
I'm not proposing a diagnosis for Bynes. McCarthy's concern and In Touch's questions, however, point to the rubbernecker's version of Prickett's revelation: a desire to pinpoint the difference between emotional extremis and actionable unwellness in others.
When it comes to the growing pains of young adulthood, Bynes's most ready foil is Miley Cyrus. Both are cherubic brunettes-turned-blonde with roots in tween entertainment. Now they are "acting out" in parallel — but one seems "troubled," the other healthy. For every Bynes behavior that In Touch questions, there is a Cyrus corollary. Bynes pierced her cheek; Cyrus pierced her nose. Bynes was photographed inhaling; so was Cyrus. Bynes tweets strange videos; so does Cyrus. Gossip outlets routinely juxtapose Bynes's and Cyrus's nude moments, shaved heads, and tattoos. But Cyrus's sanity has never been called into question. She records songs, seems normal in interviews, pulls off TV cameos. She is engaged. (We think.) While Bynes seems to spiral in a semi-isolation, Cyrus is "just out there becoming" an adult — an occasionally messy process, but nothing to panic about. We may obsess over Miley's tweets, but we would never call the cops. (Or suggest so in earnest on Twitter.)
Prickett, who writes both for a living and to record her mood for therapeutic purposes, notes that there "comes a time when writing is just another symptom." In the age of social media, is there a time — as Jenny McCarthy seems to imply — that tweeting is just another symptom?