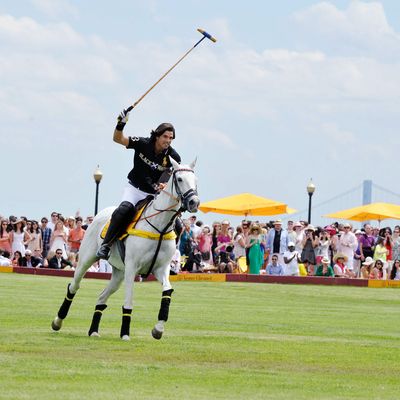 Photo: Courtesy of Veuve Clicquot
If you like celebrities in fancy white outfits, hot men on horses, and feeling like a member of Beyoncé's entourage, you won't want to miss the annual Veuve Clicquot Polo Classic. Hosted by Matthew McConaughey and benefitting Liberty State Park, the sold-out event is one of New York City's official kickoffs to summer. In case you didn't get your act together to buy tickets to the (sold out) annual celebration that takes place this coming Saturday, June 1, at Liberty State Park, we've reserved two tickets for a Cut reader who can best answer the following question in one sentence:
Nacho Figueras or Matthew McConaughey?
The winner will also receive:
·         One room for one night at the Standard, High Line
·         Breakfast for two at the Standard, High Line
·         Two tickets to attend the Veuve Clicquot Polo Classic
·         Dinner for two at Fig & Olive in the meatpacking district
Leave answers in the comments below, or e-mail us at socialmedia@newyorkmag.com.
We'll be selecting the winner Wednesday May 29, at 6 p.m., so send your reasoning before then.
—
*Update:
Thanks for all of your entertaining answers. We have chosen a winner! @ainsley3 who said: "I've already seen Matthew shirtless more than my real boyfriend, so I might as well try Nacho." 
But, because we had a hard time choosing, we also dug up two more tickets for @MagnoliaCake22 who made us smile with: "I will always take Nacho's fig over McConaughey's olives."
Check back on Monday for photos from the event.